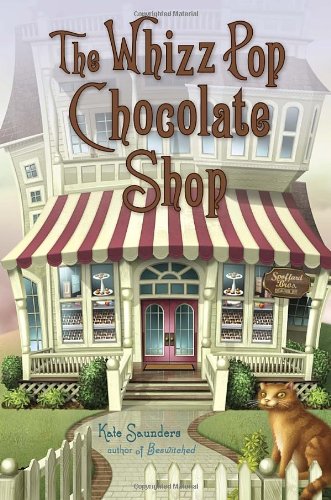 Publisher's Note:
Welcome to the most magical house in London.

The family of eleven-year-old twins Oz and Lily have inherited it, together with the mysterious shop downstairs. Long ago, the shop's famous chocolate-makers, who also happen to be Oz and Lily's great uncles, were clever sorcerers. Now evil villians are hunting for the secret of their greatest recipe. The terrifying powers of this magic chocolate have the ability to destroy the world.

Soon, Oz and Lily are swept into a thrilling battle, helped by an invisible cat, a talking rat, and the ghost of an elephant. It's up to them to stop the villians and keep the magical chocolate recipe out of harm's way. Their family and the world depends on it.
This book was sent to Compass Book Ratings for review by Random House Children's Books
The Whizz Pop Chocolate Shop
by Kate Saunders
Overall Review:
Frankly, you don't even have to read this book to like it. Just read the title aloud once or twice and you will be hooked. The Whizz Pop Chocolate Shop by Kate Saunders is a middle grade fantasy that delivers the fun that the title promises. It is a fanciful adventure that doesn't take itself too seriously, and it is just right for young readers. There is chocolate, a little magic, and a dash of James Bond for good measure. Set in England, eleven year old twins Oz and Lily team up with another boy, Caydon, and an eclectic cast of characters to battle a villain, who is not quite what they or the reader expected. Young fans of fantasy or The Candy Shop Wars will probably enjoy this book.
Content Analysis:
Profanity/Language: None
Violence/Gore: Report of several deaths in an accident that was intentionally caused; report of murders, no details; characters wrestle and bash each other; report of torture/experiments on animals; fire that causes property damage; characters encounter a dead animal; various verbal threats at gunpoint; report of a bomb explosion; bomb threat; vision of future reveals possible death, no details; verbal threat to rip out someone's entrails daily; death of a mythical creature; death due to natural causes.
Sex/Nudity: None
Mature Subject Matter:
Death of a family member; murder; kidnapping.
Alcohol / Drug Use:
Rat smokes a cigarette. An animal is drugged. Adults drink whisky, wine, etc.. One adult drowns sorrows in drink and is often drunk.
Reviewed By Cindy