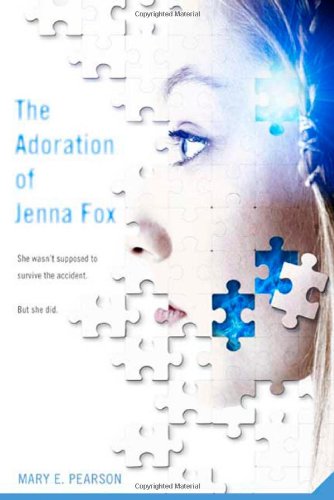 Publisher's Note:
Who is Jenna Fox? Seventeen-year-old Jenna has been told that is her name. She has just awoken from a coma, they tell her, and she is still recovering from a terrible accident in which she was involved a year ago. But what happened before that? Jenna doesn't remember her life. Or does she? And are the memories really hers? This fascinating novel represents a stunning new direction for acclaimed author Mary Pearson. Set in a near future America, it takes readers on an unforgettable journey through questions of bio-medical ethics and the nature of humanity. Mary Pearson's vividly drawn characters and masterful writing soar to a new level of sophistication. The Adoration of Jenna Fox is a 2009 Bank Street - Best Children's Book of the Year.
The Adoration of Jenna Fox
by Mary E. Pearson
Overall Review:
Set in the near future, The Adoration of Jenna Fox by Mary E. Pearson introduces us to Jenna Fox, a seventeen year-old emerging from a coma after a serious auto accident. As Jenna proceeds through the recovery process, the reader proceeds with her, trying to uncover the truth about the accident and the secrets that are being kept from her. The author successfully balances the characters, plot, action, and mystery to pull the reader along. The likeable and authentic main character and the free-flowing chapter style and layout gives this book a contemporary feel that will appeal to young adults. However, because it addresses issues about science/medicine and ethics, souls and humanity, choice and manipulation, and parent-child relationships, this book's audience easily extends beyond the young adult demographic. Multi-generation characters with varying points of view also offer something to adult readers. The Adoration of Jenna Fox is reminiscent of books such as The Giver and Enchantress from the Stars in that it asks complex questions, but doesn't provide the answers. I found myself thinking about the book long after I had completed reading it. Relevant, reflective, refreshing--do yourself a favor and add this book to your must-read list.
Content Analysis:
Violence consists of a reported accident and learning that a character served time in prison for beating someone (the event is not described). One character tries to force a character to go somewhere with him and the character successfully defends herself by grabbing his crotch.
Profanity consists of approximately a dozen mild, religious profanities. While technically not a profanity, a coarse word is used. Another coarse word is used and a character, not understanding its meaning, misuses it later. That word then becomes somewhat of a running joke and is used several, subsequent times.
Sexual content consists of the following three scenes: two characters kiss; two characters embrace and are "passionately kissing"; two characters French kiss. Each of the three scenes is very brief and consists of only one to two sentences.
Mature Subject Matter:
Mature themes include, but are not limited to, keeping secrets, parent-child relationships, friendship, medical ethics or lack thereof, illegal activities, control/choice/manipulation, souls, humanity. This book has excellent discussion material for a book club or school project.
Alcohol / Drug Use:
***
Reviewed By Cindy