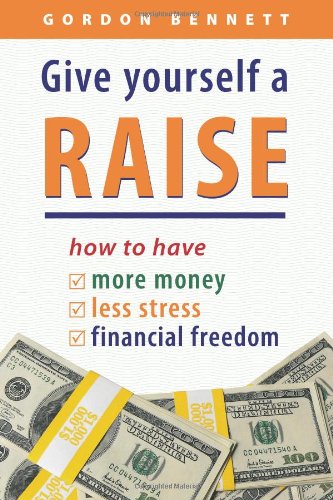 Publisher's Note:
Give Yourself a RAISE: How to Have More Money, Less Stress, Financial Freedom Product Description Stress over money is bad for your health, and money conflict is a leading cause of divorce. Gordon Bennett's new book is a how-to-do-it guide for successfully managing your money. It starts with a 6-question Financial Freedom Risk Assessment to provide a quick look at your financial health. Everyone can benefit from the unique Freedom Money Management System (tm). You will improve the way you manage money using online banking for simple control. If your boss won't give you a raise, you need to do it for yourself! You can realistically give yourself a "raise" by ending money waste. Keeping a bucket around the house that leaks makes no more sense than having a money "bucket" that is leaking money. You will find and plug leaks in your money "bucket." Step by step examples lead you through, the Freedom Money Management System In the process you will learn a fail-safe method for ending internal family squabbling about money. Part 1 Chapters include easy-to-use forms and cover: Collecting a history of spending Setting goals Forecasting cash flow Implementing the Freedom Money Management System(tm) Getting and staying out of debt Preparing for emergencies Spending strategies help eliminate wasting money including a unique technique for controlling impulse spending, a frequent budget-busting culprit. Part 2 introductory essays are on the elements of basic financial literacy: Understanding risk Credit and debit cards Investing fundamentals Insurance Government programs Final chapters reveal the secrets of making a lot of money so you can work toward greater success and the financial rewards that go with it.
This book was sent to Compass Book Ratings for review by Cadence Group
Give Yourself a Raise
by Gordon Bennett
Overall Review:
Give Yourself a Raise is a comprehensive, easy to understand guide on personal money management. Author Gordon Bennett Bleil offers excellent information and sound advice on a myriad of important financial topics. While the book emphasizes debt management, it touches on other essentials like investing, retirement, credit scores, identity theft, and emergency preparedness. The book provides multiple money management worksheets and step-by-step directions on how to use them. My favorite part of Give Yourself a Raise was the Financial Freedom Risk Assessment Quiz. After answering a series of questions, I was able to easily identify a few areas where my family could become more fiscally responsible. Give Yourself a Raise will help readers have more money, less stress, and find sweet financial freedom.
Content Analysis:
Profanity/Language: None
Violence/Gore: None
Sex/Nudity: None
Mature Subject Matter:
Debt and financial stress
Alcohol / Drug Use:
None
Reviewed By Rachel