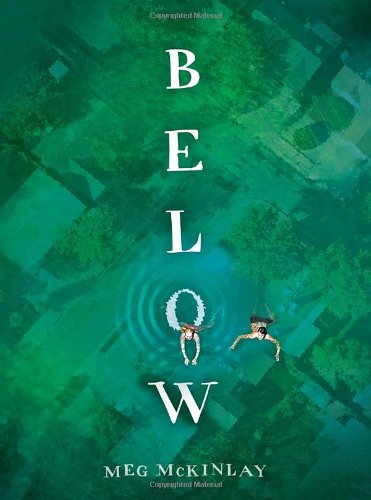 Publisher's Note:
Secrets have a way of floating to the surface. . . . Mystery, compelling characters, and an abandoned town beneath a lake make for a must-read adventure.

On the day Cassie was born, they drowned her town. The mayor flipped a lever and everyone cheered as Old Lower Grange was submerged beneath five thousand swimming pools' worth of water. Now, twelve years later, Cassie feels drawn to the manmade lake and the mysteries it hides — and she's not the only one. Her classmate Liam, who wears oversized swim trunks to cover the scars on his legs, joins Cassie in her daily swims across the off-limits side of the lake. As the summer heats up, the water drops lower and lower, offering them glimpses of the ghostly town and uncovering secrets one prominent town figure seems anxious to keep submerged. But like a swimmer who ventures too far from shore, Cassie realizes she can't turn back. Can she bring their suspicions to light before it's too late — and does she dare?
Below
by Meg McKinlay
Overall Review:
I was thinking about the way something can slide in so easily over the top of something else--a cleaner version, a neater account, a smooth glaze over a maze of hairline fractures, a delete key threading silence across incriminating paragraphs, five thousand pools of water pouring onto an inconvenient town.
And before long no one remembers what was under there to begin with.
Before long, they have a hard time remembering there was ever anything there at all.
Meg McKinlay's masterful writing sets a subtle, tense tone in the young adult novel Below. Set in Australia, Below follows twelve year old Cassie and her fascination--which borders on obsession--with the town, Old Lower Grange, which was flooded on the day of Cassie's birth to make way for a new dam. This is a book that doesn't rely upon action to propel the story, but rather atmospheric, underlying tension and rock-solid characters. Cassie and her friendship and alliance with classmate Liam are genuine. Categorized as a mystery, Below offers a lot more in terms of themes of personal relevance, secrets, and the fragile truth of written and edited histories. This is the quality of writing that can give young adult fiction a good name.
Content Analysis:
Profanity/Language: 4 religious exclamations; 1 mild obscenity.
Violence/Gore: A past accident that resulted in property damage and a death is referred to a few times.
Sex/Nudity: None
Mature Subject Matter:
Death of a family member; mental illness.
Alcohol / Drug Use:
None noted
Reviewed By Cindy