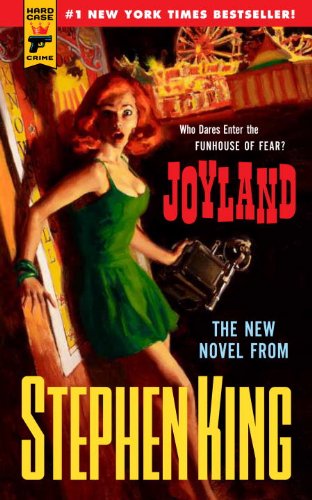 Publisher's Note:
A STUNNING NEW NOVEL FROM ONE OF THE BEST-SELLING AUTHORS OF ALL TIME!

The #1 NEW YORK TIMES BESTSELLER!

Set in a small-town North Carolina amusement park in 1973, Joyland tells the story of the summer in which college student Devin Jones comes to work as a carny and confronts the legacy of a vicious murder, the fate of a dying child, and the ways both will change his life forever.

"I love crime, I love mysteries, and I love ghosts. That combo made Hard Case Crime the perfect venue for this book, which is one of my favorites. I also loved the paperbacks I grew up with as a kid, and for that reason, we're going to hold off on e-publishing this one for the time being. Joyland will be coming out in paperback, and folks who want to read it will have to buy the actual book." – Stephen King
Joyland
by Stephen King
Overall Review:
Amusement parks have always held a bit of wonder for me. I was instantly attracted to Stephen King's new novel, Joyland, when I saw it was about a young man who works at an amusement park. I wouldn't typically pick up a book by Stephen King, so I am not familiar with his writing style. I found that I was easily pulled into his newest story, and the book moved along at a fast clip, but not so fast that I lost track of what was happening. The story has just a touch of eeriness to it when ghosts are mentioned, and several people claim to be able to tell the future, but I found those parts to be believable and not overbearing.
The book describes the layout of the amusement park called Joyland quite extensively, and brought back pleasant memories of summer trips to a nearby theme park and our county fair. I think anyone who still clings to a bit of their childhood and the excitement that a good rollercoaster ride brings will enjoy this book. I will have to pick up more of Stephen Kings books in the near future!
Content Analysis:
Language/Profanity: 2 religious exclamations; 22 mild obscenities; 1 religious profanity; 1 derogatory name; 1 scatalogical word; 3 anatomical terms; 1 offensive hand gesture; 15 F-word derivatives.
Violence/Gore: A tale is told about a murder of a young girl on an amusement park ride by a man with a knife, and detail is given about finding her clothes covered in blood and when her body was found; other murders are mentioned, with no blood or gore; a stabbing is mentioned, but no detail is given; a character tries to kill another character, but fails; a character shoots a character in self defense and kills him.
Sex/Nudity: A man and woman have sex, a man is mentioned to be a virgin, brief scene with some explicit detail; a man strokes a woman's arm, and touches her provocatively; a man and woman kiss; a woman is referred to as a sex object; a man mourns his lack of a love life; a young man mentions never having sex with his girlfriend (i.e. never doing "it").
Mature Subject Matter:
Murder; death of a young child; terminal illness; man/woman relationships.
Alcohol / Drug Use:
Men smoke frequently; a boy is referred to as a pothead; a man is mentioned to sell dope and is arrested because of it; men drink beer.
Reviewed By Lydia