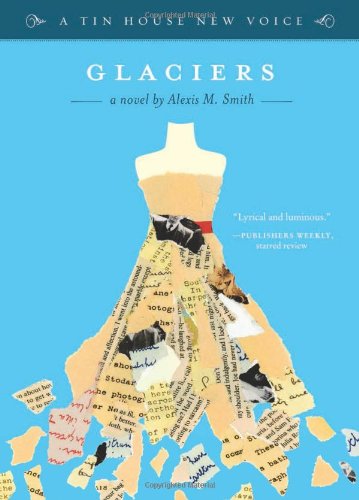 Publisher's Note:
Isabel is a single, twentysomething thrift-store shopper and collector of remnants, things cast off or left behind by others. Glaciers follows Isabel through a day in her life in which work with damaged books in the basement of a library, unrequited love for the former soldier who fixes her computer, and dreams of the perfect vintage dress move over a backdrop of deteriorating urban architecture and the imminent loss of the glaciers she knew as a young girl in Alaska.

Glaciers unfolds internally, the action shaped by Isabel's sense of history, memory, and place, recalling the work of writers such as Jean Rhys, Marguerite Duras, and Virginia Woolf. For Isabel, the fleeting moments of one day can reveal an entire life. While she contemplates loss and the intricate fissures it creates in our lives, she accumulates the stories—the remnants—of those around her and she begins to tell her own story.
Glaciers
by Alexis Smith
Overall Review:
This novel is so delicious, that I never wanted it to end! My only complaint was that it was so short. I felt like I had just started to read when I discovered that I only had a couple of chapters left to enjoy. The main character, Isabel, has a life that I would enjoy leading. One filled with books, cool clothes, vintage paper (I learned a wonderful new word to describe old paper from this book- ephemera), and a yearning for the place she used to call home. The author's writing style is difficult to describe, but it glows. Glaciers is not only a delightful read, but it is short enough that even though you may be left feeling like you didn't get a whole lot of meat to chew, you can read the whole book in a satisfyingly short amount of time. This is a perfect book for busy moms who want a book to read in the small amount of a break they get when their children are napping or gone at school.
Content Analysis:
Language/Profanity: 5 mild obscenities; 2 anatomical terms; 4 F-Word derivatives.
Violence/Gore: A character injures his hand, but no blood or gore is described; a boy is run into with a bicycle, and a wheel spoke punctures through his abdomen with minimal blood and a brief description of the incident and how it happened.
Sex/Nudity: A man and woman kiss several times.
Mature Subject Matter:
War
Alcohol / Drug Use:
Drinking wine and beer by adults.
Reviewed By Lydia