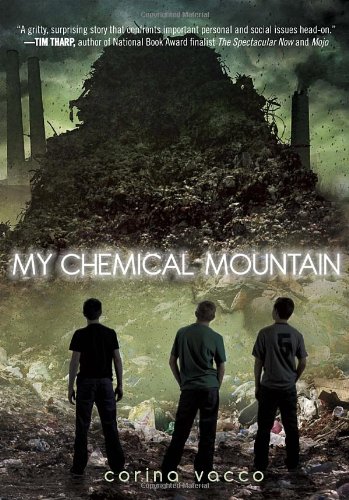 Publisher's Note:
In the vein of S. E. Hinton's The Outsiders, and in eco-warrior fierceness that will recall Erin Brockovich, comes My Chemical Mountain, a powerful, mesmerizing high-octane drama.

Rocked by his father's recent death and his mother's sudden compulsion to overeat, Jason lashes out by breaking into the abandoned mills and factories that plague his run-down town. Always by his side are his two best friends, Charlie, a fearless thrill junkie, and Cornpup, a geek inventor whose back is covered with cysts. The boys rage against the noxious pollution that suffocates their town and despise those responsible for it; at the same time, they embrace the danger of their industrial wasteland and boast about living on the edge.

Then on a night the boys vandalize one of the mills, Jason makes a costly mistake--and unwittingly becomes a catalyst for change. In a town like his, change should be a good thing. There's only one problem: change is what Jason fears most of all.
This book was sent to Compass Book Ratings for review by Random House
My Chemical Mountain
by Corina Vacco
Overall Review:
My Chemical Mountain is a unique and interesting book--imagine a teen version of Erin Brockovich. The three best friends in this book are an odd, yet perfect match. Flashing back to when they were younger and talking about their current life as teenagers, it's great to see how their friendship has grown and continues to evolve. They all have an issue with their town being a toxic dump, but for different reasons, and in turn each has their own idea of how to get revenge against those who created the mess. Author Corina Vacco has a real talent for creating an incredible picture and making you feel or even perfectly smell or taste just from a brief sentence. A young adult read recommended for both male and female audiences.
Content Analysis:
Profanity/Language: 5 religious exclamations; 22 mild obscenities; 3 religious profanities; 5 derogatory names; 21 scatalogical words; 7 anatomical terms; 1 offensive hand gesture; 1 f-word.
Violence/Gore: Many (39) brief incidents including joking about a building could explode and possibly causing someone physical harm; verbal threats; character wishing he had the guts to slash a tire; second hand reports of character's father's death; second hand reports of physical abuse from parent to child; people and animals have mutations and some are dying from improper chemical disposal; character loses teeth in motorcycle accident; character loses fingers in work accident; character punches his wife; fist fights and shoving; character cuts another character's face; scraped knee from crashing on skateboard; character grabs another character's throat; violent pictures drawn; character tells violent made-up stories; elderly character had a heart attack; imagining and thinking about dead animals; character shoots birds; characters smashing bottles and ceramic decoration; vehicles crashed; vandalism to vehicles, office and church; building intentionally burned down; non-detailed scene of violent death. One extended incident of a character telling a violent made-up story.
Sex/Nudity: Characters kissing and making out; girls in bikinis.
Mature Subject Matter:
Vandalism; death; child and spousal abuse.
Alcohol / Drug Use:
Mention of adult character drinking; character's father often drunk; character says, "He could've been a junkie"; teenagers drinking beer and smoking while hanging out; characters drinking at a party; character says that he likes how gas fumes make him feel high.
Reviewed By Jenny