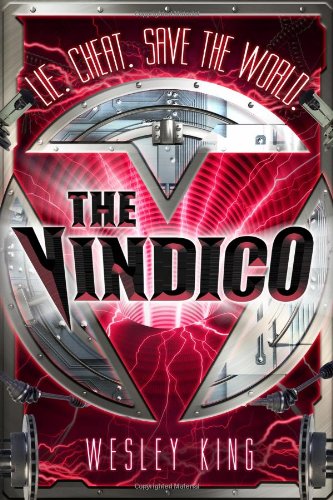 Publisher's Note:
X-Men meets The Breakfast Club in this darkly humorous adventure

The Vindico are a group of supervillains who have been fighting the League of Heroes for as long as anyone can remember. Realizing they're not as young as they used to be, they devise a plan to kidnap a group of teenagers to take over for them when they retire--after all, how hard can it be to teach a bunch of angsty teens to be evil?

Held captive in a remote mansion, five teens train with their mentors and receive superpowers beyond their wildest dreams. Struggling to uncover the motives of the Vindico, the teens have to trust each other to plot their escape. But they quickly learn that the differences between good and evil are not as black and white as they seem, and they are left wondering whose side they should be fighting on after all . . .

With fast-paced action, punchy dialogue, and sarcastic humor, this high-stakes adventure from a talented new YA voice pulls you in from the first page.
The Vindico
by Wesley King
Overall Review:
The Vindico's main attraction is the concept. The premise of the entire book--kidnapping kids and forcing them to become super villains--is very interesting and carries the plot pretty far. The writing itself is good, though not superb, and the author does make the novel exciting and interesting. The five protagonists are all quite different with personalities that, for the most part, dictate their actions. However, the author missed out on two things: one, for a super hero novel, King did not put a lot of focus on the powers of the heroes and villains. While not vital to the story, the uniqueness and excitement of the powers is part of the attraction of superhero novels. Two, the end of the novel seemed a little too good to be true. Other than those two minor flaws, The Vindico was an exciting story of action and revenge!
Content Analysis:
Profanity/Language: 2 mild obscenities; 1 derogatory name; 1 anatomical term.
Violence/Gore: There are multiple battle scenes involving guns, explosions, and various large objects that cause injury and one death, but with no graphic descriptions. Characters also threaten each other a lot.
Sex/Nudity: Characters kiss on multiple occasions.
Mature Subject Matter:
Kidnapping, family problems.
Alcohol / Drug Use:
None
Reviewed By Jackson