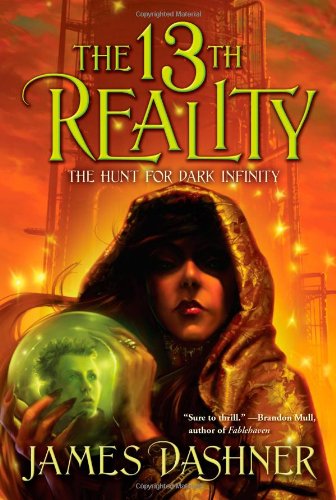 Publisher's Note:
It's been a quiet summer for Tick, Paul, and Sofia, but the latest message from Master George changes everything. The Realities are in danger — and from something more terrible than Mistress Jane and the mutated Chi'karda of the Thirteenth Reality. People from all Realities are unexplainably going insane. Worse, some Realities are fragmenting, disintegrating into nothingness. Master George has learned that Mr. Chu from the Fourth Reality is working on a mysterious new weapon called Dark Infinity. But no one has any idea how to stop the weapon — or even if it can be stopped.
This book was sent to Compass Book Ratings for review by Shadow Mountain
The 13th Reality: The Hunt for Dark Infinity
by James Dashner
Overall Review:
The Hunt for Dark Infinity is markedly better than Book 1 in the series The 13th Reality. Dashner does a much better job "speeding up" the book with intricate action sequences with all kinds of scary characters and creatures. The main character Tick is a strong and intelligent boy, and is now faced with even more tasks to save the Realities. He and the other main characters are once again put to the test with riddles to save their lives and continue with their journeys. The action was intense, but yet again I found Dashner's descriptions of people, creatures, and places lacking. The Hunt for Dark Infinity is a bit more gruesome than the first, but went well with the situation the Realities were in and state of mind of Mistress Jane and Reginald Chu. The Hunt for Dark Infinity is sure to be a hit with fans of the series.
Content Analysis:
The Hunt for Dark Infinity is not squeaky clean due to action sequences involving evil villains, scary monsters and near death experiences. Any child who understands that this type of violence isn't real will be able to deal with this book, but I wouldn't suggest it to children under twelve. Some of the run-ins with the villains are a bit creepy, and the monsters the characters face are definitely more scary than in Book One.
Mature Subject Matter:
***
Alcohol / Drug Use:
***
Reviewed By SqueakyCleanReads