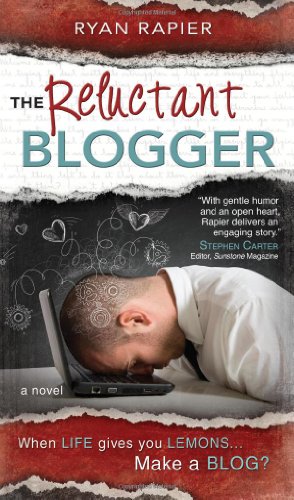 Publisher's Note:
Blogging was the last thing Todd Landry expected his psychiatrist to recommend in dealing with his wife's death. But his aversion to therapy demands drastic measures, and Todd soon finds himself writing about his sometimes-humorous struggles with single parenthood, dating, and shattered expectations. With each blog entry, Todd lets his guard down and discovers that perhaps he can find love once again.
This book was sent to Compass Book Ratings for review by Cedar Fort
The Reluctant Blogger
by Ryan Rapier
Overall Review:
The Reluctant Blogger left me exhausted with the scope of the book. It follows the death of a the protagonist's wife, the LDS singles scene, fights with children, relationships with friends, the death of another family member, and various callings in LDS singles wards. It talks about everything from grief to marriage proposals and even homosexuality.
The relationships Todd has with various people play a large part in the book. Todd's life is spent trying to please his daughter and yet have a life at the same time, and the book is incredibly busy jumping from subject to subject as he does so. I enjoyed watching the relationship with his father grow, but I thought the author could have put less emphasis on some of the relationships Todd had with his friends.
Rapier's novel does cover real world issues that are faced by the single parent and if anyone is looking for a glimpse into the life of a disheartened widower this would be the book to read.
Content Analysis:
Profanity/Language: None
Violence/Gore: Reported death of an individual; second hand report of a heart attack.
Sex/Nudity: Girl starts having her period and grandmother tries to help; a few kisses are shared; marital infidelity is reported.
Mature Subject Matter:
Divorce; marital infidelity; death of a family member; alcohol addiction.
Alcohol / Drug Use:
One man is an alcoholic, although he is not seen drinking in the book.
Reviewed By Megan