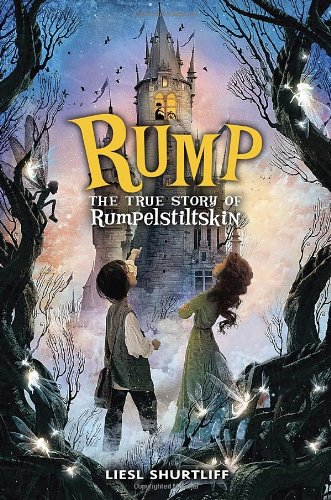 Publisher's Note:
This funny fractured fairytale goes behind the scenes of Rumpelstiltskin.
In a magical kingdom where your name is your destiny, 12-year-old Rump is the butt of everyone's joke. But when he finds an old spinning wheel, his luck seems to change. Rump discovers he has a gift for spinning straw into gold. His best friend, Red Riding Hood, warns him that magic is dangerous, and she's right. With each thread he spins, he weaves himself deeper into a curse.

To break the spell, Rump must go on a perilous quest, fighting off pixies, trolls, poison apples, and a wickedly foolish queen. The odds are against him, but with courage and friendship—and a cheeky sense of humor—he just might triumph in the end.
This book was sent to Compass Book Ratings for review by Random House Children's Books
Rump: The True Story of Rumpelstiltskin
by Liesl Shurtliff
Overall Review:
In Rump: The True Story of Rumpelstiltskin by Liesl Shurtliff, the author turns the fairy tale of Rumpelstiltskin on its side. It takes a certain creativity to be able to throw off hundreds of years of traditional story-telling and re-birth a story; especially in this case, where Rump is re-cast as a young boy and re-imagined not as the villain, but as the victim and a hero. Rump does seem quite an unlikely hero as he bungles his way through life, and the reader does really feel sympathy for his lonely and difficult state; he becomes quite entangled by his spinning. As in all good fairy tales, there is magic and adventure. This book will appeal to both middle grade girls and boys and fairy tale lovers. A satisfying read with a subtle cautionary message, Rump was a fun and rewarding read.
Content Analysis:
Profanity/Language: None
Violence/Gore: Fantasy creatures bite, pinch, scratch, etc.; report of a death in childbirth; death by natural causes; on a few separate occasions, a character hits another character; a character has a fall with serious injury; a character falls and hits head; a character has a mark on face from where they have been hit; general verbal threats.
Sex/Nudity: None
Mature Subject Matter:
Death of relative/parent
Alcohol / Drug Use:
***
Reviewed By Cindy