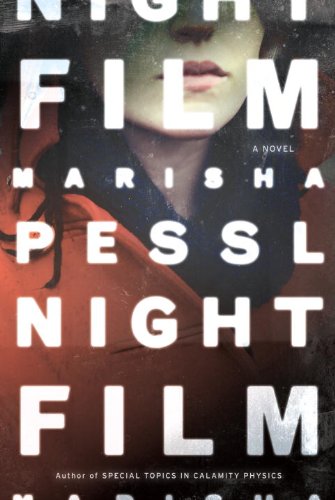 Publisher's Note:
Brilliant, haunting, breathtakingly suspenseful, Night Film is a superb literary thriller by the New York Times bestselling author of the blockbuster debut Special Topics in Calamity Physics.

On a damp October night, beautiful young Ashley Cordova is found dead in an abandoned warehouse in lower Manhattan. Though her death is ruled a suicide, veteran investigative journalist Scott McGrath suspects otherwise. As he probes the strange circumstances surrounding Ashley's life and death, McGrath comes face-to-face with the legacy of her father: the legendary, reclusive cult-horror-film director Stanislas Cordova—a man who hasn't been seen in public for more than thirty years.

For McGrath, another death connected to this seemingly cursed family dynasty seems more than just a coincidence. Though much has been written about Cordova's dark and unsettling films, very little is known about the man himself.

Driven by revenge, curiosity, and a need for the truth, McGrath, with the aid of two strangers, is drawn deeper and deeper into Cordova's eerie, hypnotic world.

The last time he got close to exposing the director, McGrath lost his marriage and his career. This time he might lose even more.

Night Film, the gorgeously written, spellbinding new novel by the dazzlingly inventive Marisha Pessl, will hold you in suspense until you turn the final page.
This book was sent to Compass Book Ratings for review by Random House
Night Film
by Marisha Pessl
Overall Review:
Night Film is an intriguing book with many twists and turns. I had the feeling that I was watching a movie instead of reading. The author used a kind of "mixed media" approach to writing this book, adding clips of paper and prints of webpages to the contents of this masterpiece. Have you ever read a book where you are left feeling extra intelligent when finished? This book gives off that vibe. It is obvious that the author spent considerable time on the story and on the words that were used to portray what the characters were thinking and feeling.
I found this story to be well-written, albeit dark. I enjoy creepy stories, and this one was definitely spooky. At times the story seemed to drag a little--maybe there was too much detail in a scene, or not enough action. All in all, I was impressed with what I read and how the story unfolded. I look forward to reading more by this author in the future.
Content Analysis:
Profanity/Language: 4 religious exclamations; 20 mild obscenities; 4 religious profanities; 5 anatomical terms; 17 F-Word derivatives.
Violence/Gore: A character has three of his fingers severed; a young character is suspected to have committed suicide; a character drowns, but the scene is not extended; there are several depictions of creepy scenes--in an old house, on the Internet, and in a forest; a young character is murdered, but there are no extended violent/gory scenes.
Sex/Nudity: A mature teen loses her virginity (report of); a man is suspected to be having sex with a minor.
Mature Subject Matter:
Suicide, drowning, mental health.
Alcohol / Drug Use:
Marijuana is mentioned; adults indulge in beer; cigarettes are smoked; a teen is mentioned to be drunk; drugs are dealt in a brief scene.
Reviewed By Lydia