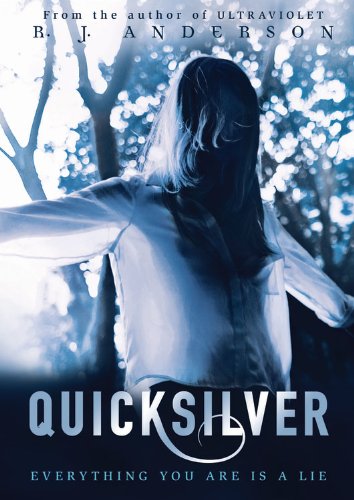 Publisher's Note:
Back home Tori was the girl who had everything a sixteen-year-old could want--popularity, money, beauty. Everything. Including a secret. That secret made her very valuable.

Now she's left everything from her old life behind, including her real name and Alison, the only person who truly understood her. She can't lose the secret. But if she wants to have anything resembling a normal life, she has to blend in and hide her unique…talents.

Plans change when the enigmatic Sebastian Faraday reappears in Tori's life and delivers bad news: she hasn't escaped. In fact, she's attracted new interest in the form of an obsessed ex-detective now in the employ of a genetics lab.

She has only one shot at ditching her past for good and living like the normal human she wishes she could be. Tori must use every ounce of her considerable hacking and engineering skills--and even then, she might need to sacrifice more than she could possibly imagine if she wants to be free.

The riveting companion to R.J. Anderson's acclaimed Ultraviolet.
This book was sent to Compass Book Ratings for review by Lerner Publishing Group
Quicksilver
by R. J. Anderson
Overall Review:
As a huge fan of R. J. Anderson's Ultraviolet, I was excited to get my hands on its companion novel, Quicksilver. Although I was surprised and initially a little disappointed that Quicksilver has a different protagonist than its prequel, the story quickly engaged my interest and I came to enjoy Tori as much as I had enjoyed Alison, the protagonist of Ultraviolet. I especially liked the unique aspects of Tori's character, her relationships with the other characters in the book, and her interest in (and genius for) invention. Like its prequel, Quicksilver creates an intriguing story that pulls you into a can't-stop-reading climax and a satisfying ending.
Although Quicksilver didn't have quite the same lyrical beauty as its companion novel, it was still a thoroughly enjoyable read, and one I'd highly recommend to teens and adults—especially those who enjoy science fiction.
Content Analysis:
Profanity/Language: 6 religious exclamations. 2 mild obscenities. 1 derogatory name.
Violence/Gore: Characters make threats against each other (~5 times). Characters are involved in a bus accident (no major injuries). A reference is made to a girl who is in extreme pain lashing out at those around her. A reference is made to an abduction. A girl knocks out a man and another girl with a sedative. A girl gives herself a severe wound—the scene is not overly graphic, but a little hard to read.
Sex/Nudity: References are made to a boy touching a girl in ways that made her uncomfortable (it is not clear what level of inappropriateness this was). A girl says to another girl that a guy has a "sexy" name. Characters discuss what it means to be asexual. Characters flirt.
Mature Subject Matter:
Abduction, Feeling isolated
Alcohol / Drug Use:
Adults drink alcohol.
Reviewed By CindyB