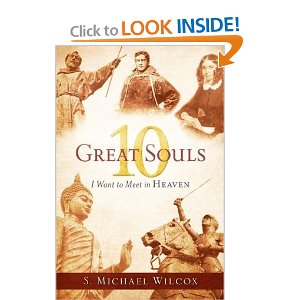 Publisher's Note:
Mormon's teaching to "lay hold upon every good thing" (Moroni 7:19) serves as an invitation to study truth from all cultures and all people. From great individuals of the past we gain valuable insights and cultural perspectives, and we are inspired by their triumphs over life's challenges. In this fascinating book, author S. Michael Wilcox profiles the lives of "his best friends in history"--ten people he wants to meet in the hereafter--individuals who have tutored his soul as well as his mind. The list includes St. Patrick, the slave who was not Irish; St. Francis of Assis, son of a wealthy Italian merchant who became a Catholic friar; Joan of Arc, a French peasant who became a national heroine; Mencius, a Chinese philosopher; Khadija and Aisha, wives of the prophet Mohammad; Siddartha, the Buddha; Charles Darwin, English scientist and naturalist; Sir Ernest Shackleton, Anglo-Irish explorer; George MacDonald, Scottish author, poet, and Christian minister; and Elizabeth Barrett Browning, prominent English poet. S. Michael Wilcox received his PhD from the University of Colorado and recently retired after thirty-seven years as an institute instructor for the Church Educational System. A popular speaker and award-winning author, his previous publications include House of Glory and Fire in the Bones.
10 Great Souls I Want to Meet in Heaven
by S. Michael Wilcox
Overall Review:
10 Great Souls I Want to Meet in Heaven is an educational book at its core. Extremely interesting and thought provoking, Michael Wilcox examines the lives of ten individuals who exhibit different traits that exemplify some of God's greatest gifts. Wilcox makes it clear that these gifts are not just for a certain religion or segment of society, but for any that God deems suitable.
Religious figures, explorers, scientists are studied and their lives examined to reveal that these individuals' greatest gifts and achievements where divinely inspired. Although certain individuals did not use their gifts to better Christianity, their lives and examples are still important to study and more importantly to recognize the source of their power was still God. The greatest lesson the reader will learn is that an open mind is a wonderful thing.
You will be a better person after reading this book. I highly recommend it.
Content Analysis:
Language/Profanity: None
Violence/Gore: Discusses the last months of the life of Joan of Arc: imprisoned, tortured, threatened, burned at the stake, non-detailed; Mentions slavery and poor living conditions that included hand-to-hand fighting, non-detailed; discusses war, war casualties and property destruction, non-detailed; some characters are killed exploring the South Pole, deaths are non-detailed.
Sex/Nudity: One instance that insinuated rape or sexually assault, non-detailed; some occasions of flirting or courting, romantic in nature, non-detailed; references the practice of polygamy.
Mature Subject Matter:
War, death of family member, slavery, philosophy, religious philoshophy (Buddism, Islam, several sects of Christianaty), natural selection, medicinal drug use (opium, ether), polygamy, torture.
Alcohol / Drug Use:
Characters are mentioned to partake in drinking alchohol and smoking cigars or cigerettes; medicinal use of opium and ether.
Reviewed By Matthew