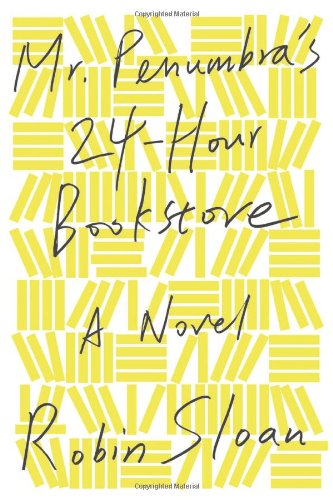 Publisher's Note:
A gleeful and exhilarating tale of global conspiracy, complex code-breaking, high-tech data visualization, young love, rollicking adventure, and the secret to eternal life—mostly set in a hole-in-the-wall San Francisco bookstore

The Great Recession has shuffled Clay Jannon out of his life as a San Francisco Web-design drone—and serendipity, sheer curiosity, and the ability to climb a ladder like a monkey has landed him a new gig working the night shift at Mr. Penumbra's 24-Hour Bookstore. But after just a few days on the job, Clay begins to realize that this store is even more curious than the name suggests. There are only a few customers, but they come in repeatedly and never seem to actually buy anything, instead "checking out" impossibly obscure volumes from strange corners of the store, all according to some elaborate, long-standing arrangement with the gnomic Mr. Penumbra. The store must be a front for something larger, Clay concludes, and soon he's embarked on a complex analysis of the customers' behavior and roped his friends into helping to figure out just what's going on. But once they bring their findings to Mr. Penumbra, it turns out the secrets extend far outside the walls of the bookstore.

With irresistible brio and dazzling intelligence, Robin Sloan has crafted a literary adventure story for the twenty-first century, evoking both the fairy-tale charm of Haruki Murakami and the enthusiastic novel-of-ideas wizardry of Neal Stephenson or a young Umberto Eco, but with a unique and feisty sensibility that's rare to the world of literary fiction. Mr. Penumbra's 24-Hour Bookstore is exactly what it sounds like: an establishment you have to enter and will never want to leave, a modern-day cabinet of wonders ready to give a jolt of energy to every curious reader, no matter the time of day.
Mr. Penumbra's 24-Hour Bookstore: A Novel
by Robin Sloan
Overall Review:
Mr. Penumbra's 24-Hour Bookstore by Robin Sloan is so set in the here-and-now that you will find yourself rushing to (ironically) Google to see if there is any fact embedded in the fiction of this book. Mr. Sloan has concocted a unique chemistry by bringing together the technology of today with the old-school world of books--the paper kind. The protagonist, Clay, is a positive, bridging force who I would be willing to go on a quest with any day. His self-conversations and private monologues were hilarious and it was comforting to know that I am not the only person in the world that think-talks to myself. (Oh, I forgot--Clay is a fictional character.) This novel reminds of us some truths: book are great, technology is cool, we all have a secret, fantasy series we loved in sixth grade, immortality comes in many forms, and friends are essential. Quite hip. Quite now. Quite fun. Quite hopeful!
Content Analysis:
Profanity/Language: 2 mild obscenities; 9 scatological words; 1 anatomical term.
Violence/Gore: None
Sex/Nudity: Character reports he made out with another character; statement that a couple make-out; a character removes another character's shirt w/implication that sexual activity followed, and it is then stated that a character is naked (no details); several references to "boob" software, as a character owns a program that renders animation of human figures for games and movies; when a character looks at a computer he asks, "What if it has porn on it?"; characters kiss; passing reference to "sexual fetishes"; report/statement of a character having sex on the floor of a library.
Mature Subject Matter:
None
Alcohol / Drug Use:
Adult characters drink at a party and a bar. An apartment smells faintly of pot.
Reviewed By Cindy