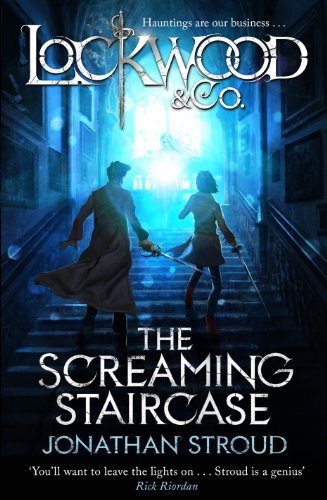 Publisher's Note:
A sinister Problem has occurred in London: all nature of ghosts, haunts, spirits, and specters are appearing throughout the city, and they aren't exactly friendly. Only young people have the psychic abilities required to see-and eradicate-these supernatural foes. Many different Psychic Detection Agencies have cropped up to handle the dangerous work, and they are in fierce competition for business.

In The Screaming Staircase, the plucky and talented Lucy Carlyle teams up with Anthony Lockwood, the charismatic leader of Lockwood & Co, a small agency that runs independent of any adult supervision. After an assignment leads to both a grisly discovery and a disastrous end, Lucy, Anthony, and their sarcastic colleague, George, are forced to take part in the perilous investigation of Combe Carey Hall, one of the most haunted houses in England. Will Lockwood & Co. survive the Hall's legendary Screaming Staircase and Red Room to see another day?

Readers who enjoyed the action, suspense, and humor in Jonathan Stroud's internationally best-selling Bartimaeus books will be delighted to find the same ingredients, combined with deliciously creepy scares, in his thrilling and chilling Lockwood & Co. series.
This book was sent to Compass Book Ratings for review by Hyperion Books for Children (A Disney Imprint)
The Screaming Staircase
by Jonathan Stroud
Overall Review:
Atmosphere? Suspense? Mystery? Charismatic characters? Witty banter? Oh, and did I mention heart-stopping frightening at times? Yes! Jonathan Stroud's latest novel, The Screaming Staircase, is all these things. This is book one in a new series set in an alternate England where ghosts have become un-restful, rampant, and frankly, quite a problem. The premise allows Stroud's creativity to flourish and the agent trio of Lockwood and Company--George, Lucy, and Lockwood--allows Stroud's gift for dialogue and humor to shine. While Lucy is gutsy, Lockwood seems to be channeling a young Sherlock Holmes, and George brings some hidden and unexpected talents to the team; the camaraderie is palpable. Some older readers may be able to predict a couple of plot turns and those who dislike ghost stories should stick to something more tranquil. However, for the stout-hearted, The Screaming Staircase is a highly recommended read...during daylight hours...of course.
Content Analysis:
Profanity/Language: 1 religious exclamation; 13 mild obscenities.
Violence/Gore: Many reports of death including but not limited to report of death by fall & broken neck, death by train, death by drowning, death by ghosts, death by suicide, etc.; multi-page frightening scene when characters encounter a ghost; destruction of property by fire/explosions; characters find human remains/skeleton; extended scene involving objects from hauntings, somewhat frightening; list of gruesome items such as bloodstained glove, mummified hand, etc.; characters scuffle and fight with swords resulting in injury; a few, separate, brief, frightening and intense paranormal encounters; multi-page intense, frightening, and graphic/descriptive scene involving large amounts of blood; a bullet is shot; explosion resulting in destruction of property; extended report of history of a haunted building; a character is killed; report of ghosts.
Sex/Nudity: Joking comment about a character doing calisthenics in the nude.
Mature Subject Matter:
Paranormal/Ghosts, Death(s), Murder, Crimes
Alcohol / Drug Use:
An adult smokes cigarettes. A character states her father drank.
Reviewed By Cindy