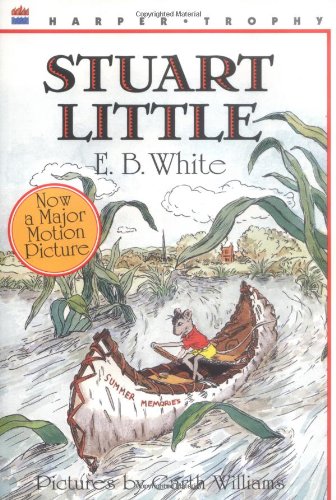 Publisher's Note:
A paperback edition of E.B. White's classic novel about one small mouse on a very big adventure! With black and white illustrations.
Stuart Little is no ordinary mouse. Born to a family of humans, he lives in New York City with his parents, his older brother George, and Snowbell the cat. Though he's shy and thoughtful, he's also a true lover of adventure.
Stuart's greatest adventure comes when his best friend, a beautiful little bird named Margalo, disappears from her nest. Determined to track her down, Stuart ventures away from home for the very first time in his life. He finds adventure aplenty. But will he find his friend?
Stuart Little
by E.B. White
Overall Review:
Stuart Little by E.B. White, the author of Charlotte's Web, is considered a children's classic. It tells the story of Stuart, a mouse, born to a human family in New York City. The book's first half is decidedly different than the second. The first part of the book is more adventurous, and Stuart's experiences, being those of a child, are easy for a child reader to connect with. However, the latter part of the book changes in tone, Stuart becomes much more adult-like in his attitudes and experiences, and those just aren't quite as interesting. The story ceases, rather than concludes, and that is quite unusual for children's literature, which tends to tie things up with a bow for young readers. However, as a child I remember being charmed by the story.
Today's children are probably most familiar with the recent film adaptation which has many elements of the original story, but takes some liberty with the plotline and characters. It is always fun to share a book with a child and then discuss the transformation it underwent into another media form.
Content Analysis:
Profanity/Language: None
Violence/Gore: A character shoots an animal in the ear with an arrow.
Sex/Nudity: None
Mature Subject Matter:
None
Alcohol / Drug Use:
A man smokes a cigarette.
Reviewed By Cindy