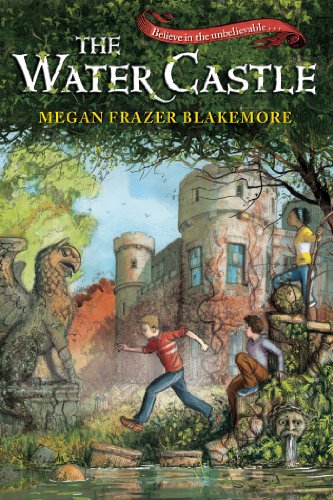 Publisher's Note:
Ephraim Appledore-Smith is an ordinary boy, and up until his father's stroke he lived an ordinary life. But all that changes when his family moves to the Water Castle-their ancestral home in the small town of Crystal Springs. Mallory Green's family has always been the caretakers of the Water Castle-and the guardians of its secrets. She has been raised to protect the legendary Fountain of Youth, hidden on the estate grounds. But ever since her mom left, she's stopped believing in magic.Will Wylie's family has been at war with the Applegates for generations, all because of the Water Castle's powerful secrets. But Will has rejected legend and magic, putting all his faith in science. When Ephraim learns of the Fountain, he's sure finding it can cure his dad. With Mallory and Will's help, the trio embarks on a mission that brings them deep into their families' shared history, through every secret room in the Water Castle, and on a quest that will blur the lines of magic and science, creativity and discovery, leaving readers left to wonder: Do you believe in the unbelievable?
This book was sent to Compass Book Ratings for review by Bloomsbury Children's Books
The Water Castle
by Megan Frazer Blakemore
Overall Review:
The Water Castle by Megan Frazer Blakemore will deftly upset readers' preconceptions. At first glance it appears to be another 'family-of-children-go-to-mysterious-house-and-discover-magical-things' book, but don't be fooled by first impressions. It starts with a family--moves to enemies--and morphs to friends. The strong characters fade and the weak characters grow. Alternating between events in the early 1900's and current day events, the book incorporates multiple storylines and history; science and exploration also play their part in the story. With both male and female characters spanning the ages of nine and approximately thirteen, this book has wide audience appeal. The book concludes without confirming or denying some of the reader's suspicions, but is still oddly satisfying. Classy writing and unique components should give this book a long life. Highly recommended!
Content Analysis:
Profanity/Language: None
Violence/Gore: Report of death by natural causes; a character is punched semi-playfully; character jumps on another and hits/slaps the character; characters suffer a fall with serious injuries.
Sex/Nudity: None
Mature Subject Matter:
Illness of a family member; parental separation/divorce
Alcohol / Drug Use:
None
Reviewed By Cindy