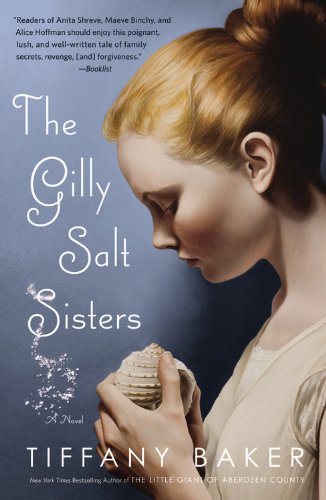 Publisher's Note:
The author of the New York Times bestselling The Little Giant of Aberdeen County returns with a magic-tinged tale of dreams, family secrets, and betrayals on a New England salt farm.

In the isolated Cape Cod village of Prospect, the Gilly sisters are as different as can be. Jo, a fierce and quiet loner, is devoted to the mysteries of her family's salt farm, while Claire is popular, pretty, and yearns to flee the salt at any cost. But the Gilly land hides a dark legacy that proves impossible to escape. Although the community half-suspects the Gilly sisters might be witches, it doesn't stop Whit Turner, the town's wealthiest bachelor, from forcing his way into their lives. It's Jo who first steals Whit's heart, but it is Claire--heartbroken over her high school sweetheart--who marries him.

Years later, estranged from her family, Claire finds herself thrust back onto the farm with the last person she would have chosen: her husband's pregnant mistress. Suddenly, alliances change, old loves return, and new battle lines are drawn. What the Gilly sisters learn about each other, the land around them, and the power of the salt, will not only change each of their lives forever, it will also alter Gilly history for good.
The Gilly Salt Sisters
by Tiffany Baker
Overall Review:
The Gilly Salt Sisters by Tiffany Baker is both magical and logical at the same time. Salt plays a big part in this story, and so does family--two things which I enjoy. It is almost as if the more the sisters in the book pay attention to salt and the role it has in their lives, the more they realize they need each other. Even though they start out as enemies, fate and life pull them together in mysterious ways. This book is an entrancing adventure that makes me want to read more of Tiffany Baker's writing. She has a way of taking the mundane and turning it into what you would least expect.
Recently, books that include recipes have become quite popular. While this book doesn't have any recipes in it, it does have several sections where food is described that is quite delicious and appealing. All in all, this book is a gem that everyone should try!
Content Analysis:
Language/Profanity: 2 religious exclamations; 17 mild obscenities; 3 religious profanities; 2 derogatory names; 2 anatomical terms; 4 F-word derivatives.
Violence/Gore: A woman intentionally burns down a barn with two people inside; a woman hits a man with the head of a shovel and knocks him out, no blood is described; a child drowns.
Sex/Nudity: Two teens "eskimo kiss"; an adult couple gets very physical and sex is alluded to two times, with a brief scene that is descriptive (clothes are removed); two preteen kids flirt; a teen girl is referred to as "easy"; a man cheats on his wife; a woman gets pregnant with a man's child--they are not married.
Mature Subject Matter:
Murder, Adultery, Death, Miscarriages
Alcohol / Drug Use:
A man drinks booze; two teens are mentioned smoking several times.
Reviewed By Lydia