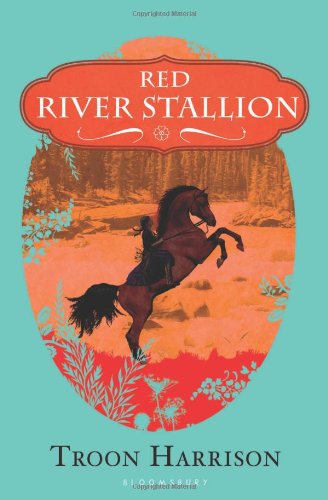 Publisher's Note:
When her mother dies, Rose is left feeling completely alone in the world, but the promise of a new friendship arrives on an English ship. Fireway, a red stallion, has made the long trip to North America and Rose falls in love with his beauty instantly. The horse is headed on a westward expedition to the Red River Valley-the same place where Rose's father is rumored to be. Together, Rose and Fireaway make the journey. But bear attacks, roaring rapids, and other adventures are waiting at every turn.

Set in 1800s Canada, this novel pairs the historical adventure of Dear America with the allure of all things equestrian in a package that's sure to please young readers.
This book was sent to Compass Book Ratings for review by Bloomsbury USA
Red River Stallion
by Troon Harrison
Overall Review:
Red River Stallion, by Troon Harrison, is a compelling tale of a girl trying to find her place in a world of clashing cultures and new beginnings. The story takes place in the wilderness of North America in the early 1800's. While there's a bit of a slow start, Harrison has a way of writing that gradually unfolds into spectacular vistas of an untamed world as well as keen insights into human nature. Through the eyes of Amelia, a 14-year-old girl born of a Cree mother and a Scottish father, the reader is exposed to the workings of early frontier life: trapping and trade, different cultural traditions, experiences with prejudice, and the awe of meeting a horse for the first time and falling in love with the animal. Harrison's extensive knowledge of and sincere love for horses exudes from the pages, convincing even the ambivalent reader of the animal's beauty, and making it a guaranteed hit for anyone with an existing admiration and love for horses.
Content Analysis:
Profanity/Language: None
Violence/Gore: Vague descriptions of fist fights; secondhand report of fight and resultant knife wound; guns fired at characters but not hit; characters encounter an animal and are almost attacked.
Sex/Nudity: Dancing; flirting; characters hug and one is kissed on the cheek. Female characters strip down and enter a sweat lodge, no description.
Mature Subject Matter:
Prejudice, starvation, death.
Alcohol / Drug Use:
Characters smoke tobacco in pipes; some drink "firewater."
Reviewed By Kristen