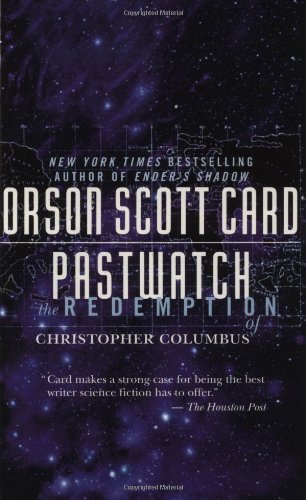 Publisher's Note:
In one of the most powerful and thought-provoking novels of his remarkable career, Orson Scott Card interweaves a compelling portrait of Christopher Columbus with the story of a future scientist who believes she can alter human history from a tragedy of bloodshed and brutality to a world filled with hope and healing.
Pastwatch: The Redemption of Christopher Columbus
by Orson Scott Card
Overall Review:
Orson Scott Card is one of my favorite authors, and Pastwatch is high on the list of my favorite books. The story blends fact and fiction seamlessly, so that unless the reader is fairly familiar with history, it's not entirely clear where the account becomes completely fictional.
Another strength of Card's is creating stories that blend just the right amount of fantasy and science fiction. Not too techie, not too other-worldly--just believable characters in a tale that's just as believable.
Card's brilliant storytelling is convincing, entertaining, and human. I connected to each of his diverse characters in this story and came away with a new respect and empathy for Columbus.
This time through the book I chose Blackstone Audio's version, and it was a delight. Card's writing switches back and forth between past and future and between characters points of view so often in this story that I wondered how the audio version would pull it off without confusing the listener. Seven fantastic readers did an amazing job of keeping everything clear.
I highly recommend Pastwatch for anyone--lovers of historical fiction to science fiction will be glad they picked it up.
Content Analysis:
Profanity/Language: 3 mild obscenities; 7 derogatory names; 3 scatological words.
Violence/Gore: A parent slaps a child; a character is dragged from a horse and beaten with a mace with few details; a character is covered in an injured person's blood; in a retelling of ancient legend, people are killed in Mayan ball courts with no details; a character mutilates his own body including private parts in an extended scene; a character is beaten with a cane with few details.
Sex/Nudity: Entire cultures of people go naked; an unmarried couple discusses spending the night together but doesn't; a character is alleged to have had an extramarital affair; two people kiss briefly; a couple flirts briefly; some innuendo is exchanged between umarried people; more than one character is raped with no details; a character is gang raped while others watch with no details.
Mature Subject Matter:
Divorce, kidnapping, rape, slavery, human sacrifice (mentioned).
Alcohol / Drug Use:
Adult characters use tobacco in tribal rituals.
Reviewed By Leslie