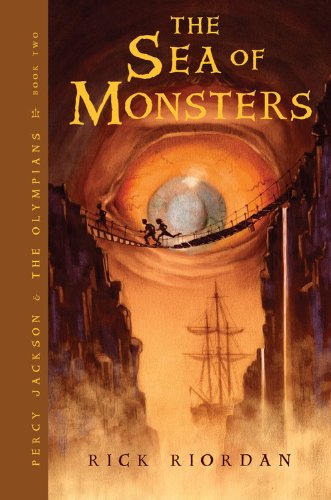 Publisher's Note:
After a summer spent trying to prevent a catastrophic war among the Greek gods, Percy Jackson finds his seventh-grade school year unnervingly quiet. His biggest problem is dealing with his new friend, Tyson—a six-foot-three, mentally challenged homeless kid who follows Percy everywhere, making it hard for Percy to have any "normal" friends.

But things don't stay quiet for long. Percy soon discovers there is trouble at Camp Half-Blood: the magical borders which protect Half-Blood Hill have been poisoned by a mysterious enemy, and the only safe haven for demigods is on the verge of being overrun by mythological monsters. To save the camp, Percy needs the help of his best friend, Grover, who has been taken prisoner by the Cyclops Polyphemus on an island somewhere in the Sea of Monsters, the dangerous waters Greek heroes have sailed for millennia—only today, the Sea of Monsters goes by a new name…the Bermuda Triangle.

Now Percy and his friends—Grover, Annabeth, and Tyson—must retrieve the Golden Fleece from the Island of the Cyclopes by the end of the summer or Camp Half-Blood will be destroyed. But first, Percy will learn a stunning new secret about his family—one that makes him question whether being claimed as Poseidon's son is an honor or simply a cruel joke.
The Sea of Monsters
by Rick Riordan
Overall Review:
The Sea of Monsters is the second book in Rick Riordan's wildly popular Percy Jackson Series. Annabeth, Percy, and Grover are back with some new characters and a new quest. Wildly careening from encounter to encounter, the action is non-stop. Riordan's gift for modern dialogue is a large component of this book's appeal to young readers. Couple that with more Greek mythology, and it is easy to understand the series' popularity. This series can be enjoyed by both elementary school and middle grade students. The Sea of Monsters is also a good book for reluctant readers as it's a roller-coaster ride of adventure. Fans of Greek mythology will love it as will anyone looking for a fun, quick read.
Content Analysis:
Profanity/Language: 6 religious exclamations; 1 mild obscenity.
Violence/Gore: Extended battle scene with explosions and fireballs resulting in property damage and vaporization of monsters; various verbal threats of death and violence; extended scene where characters battle mechanical animals with swords, punching, etc.; scene in which birds attack characters; characters fight mythical creatures with objects, fists; characters fight mythical creature with sword, etc. and kill mythical creature with explosion; report of ransacking; animals eat another animal (no details); explosions with destruction of property; extended fight scene with a mythical creature with bashing, hitting, swords, etc. resulting in injuries; extended battle scene with humans and mythical creatures with swords, arrows, paintball guns, resulting in the vaporizing of monsters; chariot race with non-fatal injuries, explosions.
Sex/Nudity: A character kisses another on the cheek.
Mature Subject Matter:
None
Alcohol / Drug Use:
None
Reviewed By Cindy