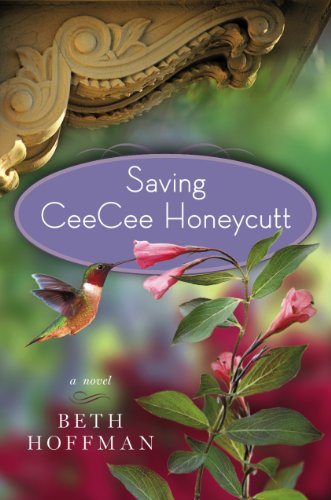 Publisher's Note:
When Camille Sugarbaker Honeycutt, the pretty but crazy 1951 Vidalia Onion Queen, dies suddenly, her twelve-year-old daughter CeeCee has barely a hope left in the world. To her rescue arrives Great Aunt Tootie in the most magnificent car CeeCee has ever seen, and she is whisked away to the storybook city of Savannah. For some flowers, Aunt Tootie holds, are born to bloom only south of the Mason-Dixon line and soon, among the sweet scent of magnolias and the loving warmth of Tootie and her colourful collection of friends, it looks as though CeeCee has arrived in paradise. But when a darker side to the Southern dream threatens this delicate, newfound happiness, Aunt Tootie and her friends must rally to CeeCee's aid. Warm yet heartbreaking, and generously spiced with humor, Saving CeeCee Honeycutt is the story of a girl who loses her mother but finds many others under a balmy Georgia sun.
Saving CeeCee Honeycutt
by Beth Hoffman
Overall Review:
Affirming and charming! Saving CeeCee Honeycutt by Beth Hoffman is more than just the story of twelve-year-old CeeCee after the death of her mother. It is also a love letter to the traditions of the South and a tribute to the power of women and their friendships. Amidst the sprinkling of colorful and eccentric characters, the novel explores what it means to let go of the past and simultaneously treasure the good parts as we move forward in life.
Lovers of stories set in the South (such as Steel Magnolias and The Help) would probably especially enjoy Saving CeeCee Honeycutt.
Content Analysis:
Profanity/Language: 12 religious exclamations; 14 mild obscenities; 16 derogatory names; 3 scatological words; 6 anatomical terms.
Violence/Gore: Several second-hand reports of death due to accidents, illness, and natural causes; a character slips and suffers a significant head injury with mention of blood; a character pulls a knife on another character; a character hits another in the nose with a rock and breaks it; a story/fable is told where characters are enslaved and beaten (no details); characters fight by hitting, slapping, attempting to strangle, etc.--told in a humorous fashion with no significant injuries.
Sex/Nudity: A few sexual references such as saying someone dressed like a prostitute, someone is a "gaping vagina"; a character is naked (non-sexual); a character is not wearing undergarments and by accident becomes partially exposed (non-sexual); report of skinny dipping; a character takes pictures of a women's undergarment, depicted in a humorous way; one scene, mostly dialogue, where a married character is pursuing an unmarried character dressed in a see-through negligee.
Mature Subject Matter:
Death of a parent, child neglect, racial discrimination, mental illness
Alcohol / Drug Use:
A character drinks heavily and often. Adults drink and smoke socially. There is a report of drugs being confiscated in an arrest. A character is given medication to help them sleep.
Reviewed By Cindy