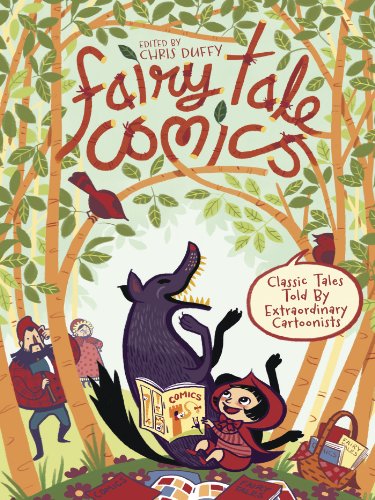 Publisher's Note:
From favorites like "Puss in Boots" and "Goldilocks" to obscure gems like "The Boy Who Drew Cats," Fairy Tale Comics has something to offer every reader. Seventeen fairy tales are wonderfully adapted and illustrated in comics format by seventeen different cartoonists, including Raina Telgemeier, Brett Helquist, Cherise Harper, and more.
Edited by Nursery Rhyme Comics' Chris Duffy, this jacketed hardcover is a beautiful gift and an instant classic.
This book was sent to Compass Book Ratings for review by First Second Books
Fairy Tale Comics
by Chris Duffy
Overall Review:
Chris Duffy's idea to create fairy tale comics for young adults is a brilliant one! Aside from a familiarity with Disney stories, many young people today haven't grown up with a tradition of classic fairy tales. This is probably the first generation in history that has no universal knowledge of time-honored characters like Goldilocks, Brer Rabbit, or Rumplestiltskin.
At this age, most teens don't want to go back and learn about children's stories--they're ready to move on. But with this fantastically-illustrated collection, I predict many will be seduced into reading them all--more than once. Why is this important? Because so much of our culture still revolves, ever so subtly, around traditions and stories from long ago.
The artists' styles are varied and delightful. The retelling of the stories gives just enough to get the gist without being preachy or burdened with old-fashioned detail. Add multicultural influences and female heroes into the mix, and you have a wonderful selection of culturally significant stories that are sure to entertain and enrich. I hope a second installment is forthcoming!
Content Analysis:
Profanity/Language: None
Violence/Gore: A character threatens to kill and eat a child; several characters are eaten with no gore; a character orders a child killed; drawings come to life and eat a monster--their mouths are dripping with blood; a character is swallowed by a chasm; a character is attacked and injured with no gore; a dog bites a man on the leg with no gore; several characters are put in scary situations.
Sex/Nudity: None
Mature Subject Matter:
Kidnapping; death of a family member; poverty; abandonment; bullying; theft; witchcraft; family members deliberately put in dangerous situations.
Alcohol / Drug Use:
A character is offered drugged alcohol; attempted poisoning.
Reviewed By Leslie