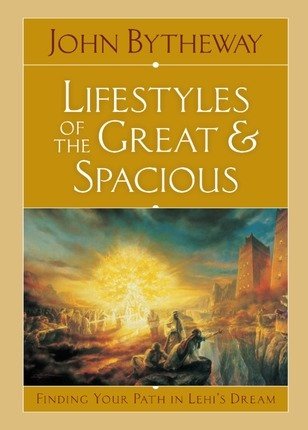 Publisher's Note:
With every passing day, the unforgettable imagery in Lehi's dream becomes more real and more relevant. In our modern world, we can literally hear the taunts and see the pointing fingers of people like those in the great and spacious building. We find ourselves clinging with greater energy to the rod of iron as we work through the massive mists of darkness toward the tree of life. In Lifestyles of the Great and Spacious, John Bytheway looks at Lehi's dream, and with his characteristic humor, comments from Church leaders, scholarly insights, and personal experiences, he expands our understanding of these precious verses of scripture. If you enjoyed Isaiah for Airheads or Of Pigs, Pearls, and Prodigals or Righteous Warriors, you'll enjoy the additional scriptural insights and easy-to-understand teaching style from John in this new publication. John Bytheway served a mission to the Philippines and later graduated from Brigham Young University. A favorite speaker and teacher, John holds a master's degree in Religious Education and is a part-time instructor at BYU. John is the author of many bestselling books, audio talks, and DVDs, including Of Pigs, Pearls, and Prodigals, When Times Are Tough, Isaiah for Airheads, and Heroes: Lessons from the Book of Mormon.
This book was sent to Compass Book Ratings for review by Deseret Book
Lifestyles of the Great and Spacious
by John Bytheway
Overall Review:
Lifestyles of the Great and Spacious by John Bytheway is a book directed at Latter-day Saint audiences. Those unfamiliar with the story of Lehi and his family found in the Book of Mormon will likely be a bit confused with or disinterested in this book as it is an exploration of the aforementioned story.
John Bytheway has primarily two styles of texts. The first is clean, humor-filled stories with moral lessons and the second is more serious and focused on scriptural topics. Lifestyles of the Great and Spacious falls into this latter category--although the book does manage to sneak in a few humorous tidbits.

Those hoping to better understand the vision of the tree of life will find this book to be a relatively simple book and easy for young people to read and comprehend. The book is arranged in such a way as to make each chapter a section worthy of discussion. Bytheway also makes it a point to mention current application for each topic in his book. Although much of what is covered is not especially new to those who know the story, there are some great quotes and things to be pondered.
Content Analysis:
Profanity/Language: None
Violence/Gore: Report of individuals threatening to kill their brother and parents.
Sex/Nudity: Author mentions premarital sex and sexual orientation in a list format, no details or elaborations.
Mature Subject Matter:
Premarital sex, sexual orientation, eating disorders.
Alcohol / Drug Use:
Lists alcohol, marijuana and hard drugs as addictive behaviors. Person used to party and drink.
Reviewed By Susan