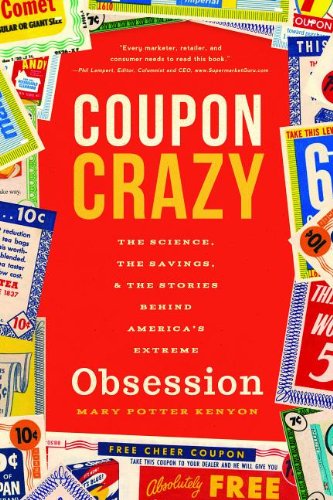 Publisher's Note:
Coupon Crazy examines the phenomena of avid coupon use and the socio-cultural and socioeconomic factors that construct it. By delving into the history of couponing, refunding, the science of shopping, and the dark underbelly of a coupon world the average American didn't even know existed, author Mary Potter Kenyon manages to both fascinate and educate the reader. Readers will meet today's "Coupon Queens" (and Kings) and learn about an era when trash really was cash. Not just an observer of this ethnographic research, Mary lived it for over 30 years.
Coupon Crazy
by Mary Potter Kenyon
Overall Review:
No one knows the ins and outs of couponing as well as this small-town Iowa mom! This fact is proven again and again in her book as she explains why coupons are beneficial to families and how to use them to save money often. She goes into detailed histories of how coupons first drew her in and why she uses them to this day. Not only does she save her family lots of money each year, but she also gets the satisfaction of knowing she went into a store and picked up hundreds of dollars' worth of merchandise and used manufacturers' and store coupons to lower her totals drastically.
If you enjoy watching TV shows like Extreme Couponing, this book is right up your alley. It proves that a person that uses coupons diligently can lower their bills without being extreme or deceiving. Some people try to glamorize coupons and the savings that come along with them. This is just a mother telling her honest story of why she loves couponing and how it has affected her life. I found her story quite interesting, and it made me want to start being more diligent about clipping coupons and using them. The book talks about how couponing can give you a sort of high and is addicting. This book was hard to put down--I just wanted to keep reading it and learn more about the fine art of saving money the old-fashioned way.
Content Analysis:
None
Mature Subject Matter:
None
Alcohol / Drug Use:
None
Reviewed By Lydia