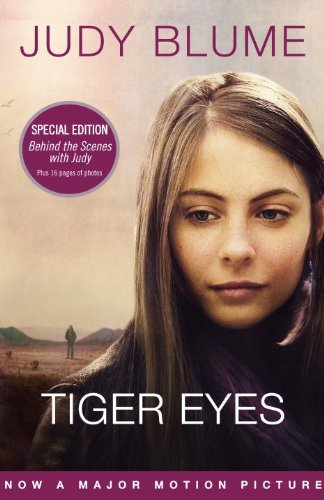 Publisher's Note:
Davey has never felt so alone in her life. Her father is dead—shot in a holdup—and now her mother is moving the family to New Mexico to try to recover.

Climbing in the Los Alamos canyon, Davey meets the mysterious Wolf, who can read Davey's "sad eyes." Wolf is the only person who seems to understand the rage and fear Davey feels.

Slowly, with Wolf's help, Davey realizes that she must get on with her life. But when will she be ready to leave the past behind and move toward the future? Will she ever stop hurting?
Tiger Eyes
by Judy Blume
Overall Review:
Before starting this book, you may want to clear your schedule for the day and find a box of tissues to have at hand. Not only will you have a hard time putting Tiger Eyes down, it is so well written that you may just forget that the events aren't happening to someone you know!
The main subject of the book is the loss of a much-loved parent, and how a whole family goes on with their lives without a father or husband by their sides. If you can't relate to this story personally, it is likely you know someone who has been through a similar scenario, and this book gives you a glance into what that kind of life is like. The story portrayed is a very good guide for where a person should look for help, and how to cope when tragedy strikes. It tells of the importance of surrounding yourself with friends and family, and how much it helps you heal if you open up and let people help you.
Judy Blume may be best known for writing young adult novels that may contain more mature subjects, but this book centers more on coming-of-age in the midst of grief. I have yet to see the movie that is based on this book, but I know that I want to see it after reading such a great book. I was left with a melancholy feeling when I finished, but I think that is what the author may have wanted.
Content Analysis:
Language/Profanity: 2 Religious exclamations; 5 Mild obscenities; 4 Derogatory names; 1 Anatomical term.
Violence/Gore: A character is found by his teenage daughter at the scene of his murder covered by his blood; blood is described to be dripping onto floors and off of store shelves after his murder; the murder scene is described two times in brief detail.
Sex/Nudity: Sexual activity between adults is briefly mentioned three times, mostly teens speculating about whether or not their parents were "doing it"; sexual activity is implied two times between adults; young teens kiss passionately; a pre-teen girl describes how she feels when the boy she likes caresses her arm.
Mature Subject Matter:
Murder; teen pregnancy; death of a loved one; alcohol abuse; underage drinking.
Alcohol / Drug Use:
A teen girl has a drinking problem; teens are briefly mentioned getting stoned; a woman drinks brandy to calm her nerves; a woman is addicted to a prescribed drug.
Reviewed By Lydia