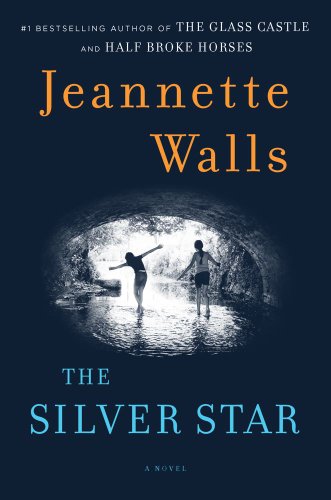 Publisher's Note:
The Silver Star, Jeannette Walls has written a heartbreaking and redemptive novel about an intrepid girl who challenges the injustice of the adult world—a triumph of imagination and storytelling.It is 1970 in a small town in California. "Bean" Holladay is twelve and her sister, Liz, is fifteen when their artistic mother, Charlotte, a woman who "found something wrong with every place she ever lived," takes off to find herself, leaving her girls enough money to last a month or two. When Bean returns from school one day and sees a police car outside the house, she and Liz decide to take the bus to Virginia, where their Uncle Tinsley lives in the decaying mansion that's been in Charlotte's family for generations.

An impetuous optimist, Bean soon discovers who her father was, and hears many stories about why their mother left Virginia in the first place. Because money is tight, Liz and Bean start babysitting and doing office work for Jerry Maddox, foreman of the mill in town—a big man who bullies his workers, his tenants, his children, and his wife. Bean adores her whip-smart older sister—inventor of word games, reader of Edgar Allan Poe, nonconformist. But when school starts in the fall, it's Bean who easily adjusts and makes friends, and Liz who becomes increasingly withdrawn. And then something happens to Liz.

Jeannette Walls, supremely alert to abuse of adult power, has written a deeply moving novel about triumph over adversity and about people who find a way to love each other and the world, despite its flaws and injustices.
The Silver Star
by Jeannette Walls
Overall Review:
Jeannette Walls has left me wowed once again by her fine authorship skills. I often shy away from books that aren't set in present day, but her depiction of the 1970's made me want to travel back in time and live with her characters. No, their lives weren't anywhere near perfect, but they were so interesting and captivating that I wanted to have them as my sisters and relatives.
Bean and Liz are two lovable girls that have been left by their mother to fend for themselves. Turning to a relative for help in their mother's home town proves to be a good, stable move for them. In the words of their Uncle Tinsley, "Leave Byler? Why would I leave Byler? I'm a Holladay. This is where I belong".
Bean narrates the story fabulously, and left me quite jealous of her mother's childhood living quarters where there is a whole wing of the house called the "bird wing". The mansion also holds lots of old, dusty secrets that the sisters discover while helping their aunt and uncle clean their house. I really liked the descriptions of the grounds and house that were given. This book is something that teens and adults could both be interested in, and that can be hard to find.
Content Analysis:
Language/Profanity: 4 religious exclamations; 14 mild obscenities; 2 religious profanities; 3 derogatory names; 1 anatomical terms.
Violence/Gore: A man slaps a preteen girls' face repeatedly; a preteen girl is threatened verbally by a man; a character shoots another and kills him, with very little description.
Sex/Nudity: A man touches a woman who is not his wife in a sexual way; a man shows inappropriate interest in a teenage girl and is called a "perv"; a man attempts to molest a teen girl; a teen girl is referred to as "loose".
Mature Subject Matter:
Murder; drinking and driving; abandonment; loss of a parent.
Alcohol / Drug Use:
A teen girl overdoses on sleeping pills; a taxi driver drinks beer and drives; a man drinks beer.
Reviewed By Lydia