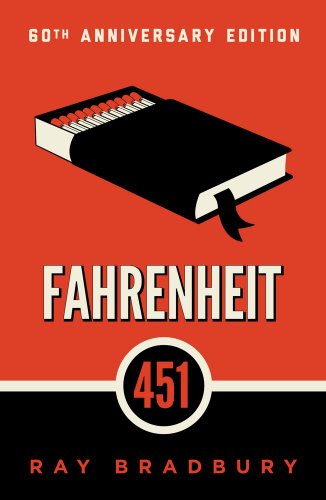 Publisher's Note:
Ray Bradbury's internationally acclaimed novel Fahrenheit 451 is a masterwork of twentieth-century literature set in a bleak, dystopian future.
Guy Montag is a fireman. In his world, where television rules and literature is on the brink of extinction, firemen start fires rather than put them out. His job is to destroy the most illegal of commodities, the printed book, along with the houses in which they are hidden.
Montag never questions the destruction and ruin his actions produce, returning each day to his bland life and wife, Mildred, who spends all day with her television "family." But then he meets an eccentric young neighbor, Clarisse, who introduces him to a past where people didn't live in fear and to a present where one sees the world through the ideas in books instead of the mindless chatter of television.
When Mildred attempts suicide and Clarisse suddenly disappears, Montag begins to question everything he has ever known. He starts hiding books in his home, and when his pilfering is discovered, the fireman has to run for his life.
First published in 1953, Fahrenheit 451 is a classic novel set in the future when books forbidden by a totalitarian regime are burned. The hero, a book burner, suddenly discovers that books are flesh and blood ideas that cry out silently when put to the torch.
Fahrenheit 451
by Ray Bradbury
Overall Review:
In a future America where reading is forbidden, a man who makes his living by patrolling his city collecting and burning contraband books takes a second look at his job and what it really means to him and the society he lives in. Guy Montag starts questioning the way he and everyone else around him obey the government without doubting the reasoning behind the laws, and he realizes how close-minded everyone has become. He makes several friends and enemies in his quest to right wrongs, and learns he must use the same fury he put into action to burn books as to rescue them.
This book is reminiscent of The Hunger Games. It is hard to believe this book was written over fifty years ago. The story predicts many things that have come to pass in more recent years. I would recommend this book to anyone who is looking for a good, fast-paced read!
Content Analysis:
Profanity/Language: 32 religious exclamations; 39 mild obscenities; 4 religious profanities; 2 anatomical terms.
Violence/Gore: There are several instances where violence occurs in the form of physical contact; a man slaps a woman; a woman is reported to have been burned to death in her own house; mechanical dogs chase several of the main characters in an attempt to capture them; there are several vague references to people being killed or tortured.
Sex/Nudity: None
Mature Subject Matter:
Death,war, suicide, crime and illegal activities.
Alcohol / Drug Use:
Two men drink shots of whiskey; a woman overdoses on sleeping pills and must have her stomach pumped.
Reviewed By Lydia