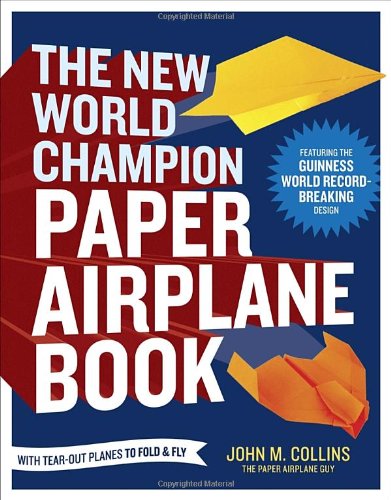 Publisher's Note:
A collection of easy-to-fold paper airplane designs and innovative theories of flight, including the author's Guinness World Record-breaking airplane. Features 16 tear-out model planes.
This is the book you saw on Conan. Will YOU be the next to break the WORLD RECORD? The first person to officially break the world record with John's plane will get $1,000.

Anything is possible with The New World Champion Paper Airplane Book, the newest collection of designs and theories of flight from John M. Collins, the man behind the Guinness World Record-breaking distance plane. Featuring twenty-two unique airplane designs with step-by-step instructional photos, plus tear-out models printed on regulation-weight paper stock, this entertaining and informative guide promises hours of flying fun.

Take your paper airplane-making to the next level with features such as:

· Instructions for folding "Suzanne," the plane that shattered
the previous world record by flying an unprecedented 226 feet,
10 inches, and garnered more than three million views on YouTube

· Four "Follow Foil" aircraft that can stay aloft for minutes
at a time

· A pioneering cambered-wing plane

· A primer on flight theory, and how it applies to paper airplanes

· Tips for improving the accuracy and distance of your throws

· The adjusting technique that helped break the record

· And more!
This book was sent to Compass Book Ratings for review by Random House
The New World Champion Paper Airplane Book
by John M. Collins
Overall Review:
The New World Champion Paper Airplane Book by John M. Collins is no average paper airplane reference. It has more information included in it than just how to fold paper so that it will soar through the air. This book includes chapters entitled WHY STUFF FLIES and THROWING AND ADJUSTING just to name a few. I thoroughly enjoyed the author's exuberance for flying in general and for paper airplanes in particular. I enjoyed being introduced to a world that I didn't know existed--a world of "flight fanatics" in miniature that is peopled with individuals that are obsessed with building and flying paper airplanes. Seriously...I had no idea, but whenever I think of it now it makes me smile. I smile because it is wonderful to see someone take something they love and share it with the world.
I will say that the designs in this book are not for the faint of heart. They really take some thought and willingness to flip back and forth through the book as specific base folds are referenced in the airplane's design. I am no stranger to paper airplane folding as my kids and I have been known to fold dozens of airplanes featuring multiple designs on those too-cold-to-play-outside kind of winter days, but I did have trouble with these designs. I was able to persevere and end up with some airplanes that had nice flight times, but honestly I like plane designs that I can easily teach to my kids and John's designs seemed meant for a more serious paper airplane builder than myself. So I recruited my son's robotics team to try a few designs for me. I figured teenage boys that had spent a few hours rebuilding a scissor lift to incorporate a motor might like to take a break to fold and fly some planes, but they soon lost interest and declared they must have made some mistakes early on because they just couldn't get the design to work.
Even though this book was not the right fit for my family, I still give it high marks as an enjoyable and informational read and to the serious paper airplane builder out there I'm sure it would be worth its weight in gold.
Content Analysis:
Profanity/Language: None
Violence/Gore: None
Sex/Nudty: None
Mature Subject Matter:
None
Alcohol / Drug Use:
None
Reviewed By Ambra