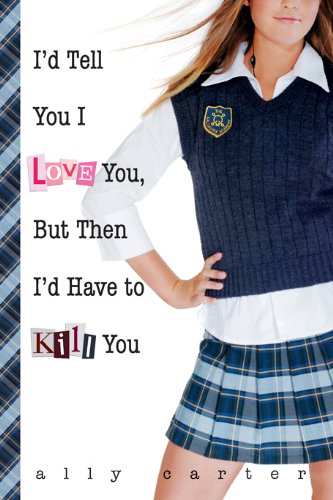 Publisher's Note:
Cammie Morgan is a student at the Gallagher Academy for Exceptional Young Women, a fairly typical all-girls school—that is, if every school taught advanced martial arts in PE and the latest in chemical warfare in science, and students received extra credit for breaking CIA codes in computer class. The Gallagher Academy might claim to be a school for geniuses but it's really a school for spies.
Even though Cammie is fluent in fourteen languages and capable of killing a man in seven different ways, she has no idea what to do when she meets an ordinary boy who thinks she's an ordinary girl. Sure, she can tap his phone, hack into his computer, or track him through town with the skill of a real "pavement artist"—but can she maneuver a relationship with someone who can never know the truth about her?

Cammie Morgan may be an elite spy-in-training, but in her sophomore year, she's on her most dangerous mission—falling in love.
I'd Tell You I Love You, But Then I'd Have to Kill You
by Ally Carter
Overall Review:
This is my second exposure to Ally Carter, and I'm definitely going to come back for more! I'm especially enamored because I was so pleasantly surprised by the high quality of Carter's writing. Plus, her stories are so much fun. Carter's characters are genuine without being cheesy or cliche. Her stories are unique and exciting without being over-the-top.
I love a quick, fun, romantic, plot-twisty mystery, and Carter delivers. I really love the idea of the Gallagher Academy, and if I was in junior high, I'd dream of going there. Who doesn't want to be a genius martial-arts expert capable of taking down any criminal single-handedly? Talk about empowering girls!
Cami is a delightful main character who makes a lot of mistakes and is completely clueless with boys, so she's not perfect. That makes her all the more accessible in spite of the fact that she knows exactly how to use a garrotte. She gets into spats with her friends and struggles with her mom, but through it all the reader knows they're loyal and devoted to one another.
In this introductory novel, we learn all about the Gallagher Academy and get back stories on the main characters. This slows the story down ever so slightly, which is why I'm not giving this book five stars. It's fun to get to know the characters, but I'm excited to dive right in to their exploits next time. It's a good thing Ally Carter is such a prolific author, because I'll take all I can get!
Content Analysis:
Profanity/Language: 3 mild obscenities. (A derogatory name is alluded to with the first letter.)
Violence/Gore: A student accidentally sets herself on fire with no injuries; a minor is thought to have been kidnapped and beaten; characters discuss various ways they are capable of injuring others.
Sex/Nudity: A minor and an adult engage in mildly flirtatious conversation; "second base" is mentioned with no details; two characters kiss briefly and hold hands several times.
Mature Subject Matter:
Death of a family member; kidnapping.
Alcohol / Drug Use:
A minor smokes a cigarette.
Reviewed By Leslie