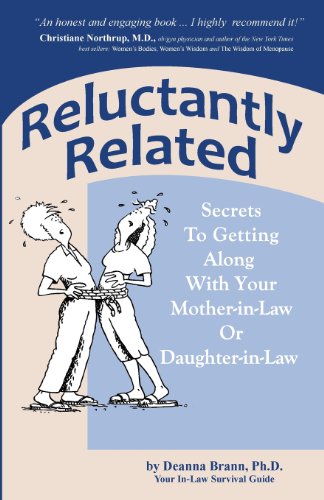 Publisher's Note:
At last, Reluctantly Related: Secrets To Getting Along With Your Mother-in-Law or Daughter-in-Law gives us the definitive work on the all too common family dilemma of stressful relationships between mothers-in-law (MILs) and daughters-in law (DILs). Leading in-law relationship authority Dr. Deanna Brann delivers an insightful, stimulating guide for determining the root causes of mother-in-law/daughter-in-law difficulties and more importantly, provides the situation-specific, practical tools to change things for the better. While dealing with this often difficult or even painful subject, Reluctantly Related is engaging and wonderfully readable with its extensive use of real world conversation examples and lighthearted cartoons. Dr. Brann introduces you to her witty collection of mother-in-law, daughter-in-law and husband/son personality types - from Off-the Wall Wanda to Doubting Donna to Struggling Steven - and goes on to show you how to identify the types in your own family. She then explains in everyday language how combinations of these personality types present relationship challenges, but goes on to give practical, hands-on tools for mothers-in-law and daughters-in-law to improve their relationship. There has never been such an entertaining yet helpful resource on the specific problems between mothers-in-law and daughters-in-law. Reluctantly Related provides unique, straightforward help to any MIL/DIL challenged family, and should be required reading for newlyweds and their mothers!
This book was sent to Compass Book Ratings for review by Cadence Group
Reluctantly Related
by Deanna Brann PhD
Overall Review:
Reluctantly Related by Deanna Brann focuses on the relationship forged between a mother-in-law and daughter-in-law. The title refers to the fact that these two women are brought together through marriage and expected to form a familial bond whether they want to or not. With a son or husband involved, they have the motivation to do so, but perhaps don't know exactly how to accomplish it.
The author, a licensed therapist, uses stories to illustrate her points throughout the book making this an easy read and not a clinical analysis. The book is also dotted with cute comic strip type drawings that give it a friendly feel. Deanna Brann has a gift for drawing the reader in with her amiable writing style, and her willingness to let the reader into her own relationship with her daughter-in-law gives her words a credence that cannot be achieved through a degree alone. However, she analyzes the relationship by grouping people into personality types, which is a way of looking at people that I have never identified with.
Brann proposes that there are four personality types found among mother-in-laws: Comfortable Carla, Mothering Margaret, Off-the-Wall Wanda, and Uncertain Sara. She also identifies four personality types for daughter-in-laws: Confident Connie, Doubting Donna, Weird Wendy, and Transitioned Tracy. Along with three types for the son/husband: Self-Assured Andy, In-the-Middle Michael, and Struggling Steven. I know that many people may find this helpful, but I find it too generalizing to be useful.
I still found bits of wisdom that can always be helpful in forging good relationships like showing mutual respect and keeping in mind that our own expectations play a role in how we view others. Not to mention the very important point that boundaries need to be found and maintained to nurture all the relationships involved in the joining together of families.
Content Analysis:
Profanity/Language: None
Violence/Gore: None
Sex/Nudity: None
Mature Subject Matter:
None
Alcohol / Drug Use:
None
Reviewed By Ambra