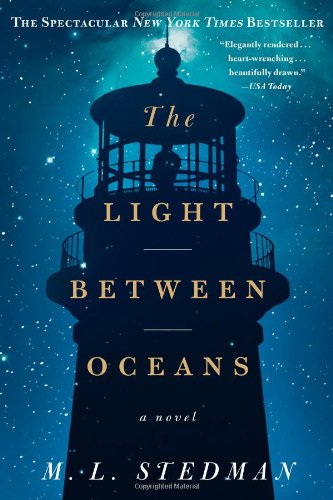 Publisher's Note:
After four harrowing years on the Western Front, Tom Sherbourne returns to Australia and takes a job as the lighthouse keeper on Janus Rock, nearly half a day's journey from the coast. To this isolated island, where the supply boat comes once a season, Tom brings a young, bold, and loving wife, Isabel. Years later, after two miscarriages and one stillbirth, the grieving Isabel hears a baby's cries on the wind. A boat has washed up onshore carrying a dead man and a living baby.
Tom, who keeps meticulous records and whose moral principles have withstood a horrific war, wants to report the man and infant immediately. But Isabel insists the baby is a "gift from God," and against Tom's judgment, they claim her as their own and name her Lucy. When she is two, Tom and Isabel return to the mainland and are reminded that there are other people in the world. Their choice has devastated one of them.
The Light Between Oceans
by M. L. Stedman
Overall Review:
Exquisite! M.L. Stedman masterfully constructs in THE LIGHT BETWEEN OCEANS a compelling tale hinged on a single, catalytic decision. Conflicted characters in a complex web of relationships struggle in this novel and the reader struggles with them. Oddly difficult to put down--this isn't an action-driven novel--I found myself willing to sacrifice precious sleep to keep reading. With many possible outcomes to this tale and no clear path or resolution, it wasn't clear until the final few pages how the novel would conclude. M.L. Stedman created solid, believable characters by breathing life into their internal turmoils. The icing on the cake was the Australian setting and the windswept loneliness of a lighthouse on the edge of two oceans. Bittersweet and completely worth the loss of sleep!
Content Analysis:
Profanity/Language: 37 religious exclamations; 34 mild obscenities; 11 derogatory names; 1 f-word derivative. Use of the British term "bloody" not tallied.
Violence/Gore: References to WW I and reports of injuries; man sexually threatens a woman, but nothing happens; a few reports of death by natural causes; report of a man jumping off cliff to death; reports of death due to animals; report of character throwing self under a train.
Sex/Nudity: 1 instance of implied nudity (non-sexual); characters kiss; reference to a brothel; implication that a woman was having an affair; married couple caress and hold one another; implied that married couple made love.
Mature Subject Matter:
Death, Ethics
Alcohol / Drug Use:
Adult characters drink and smoke.
Reviewed By Cindy