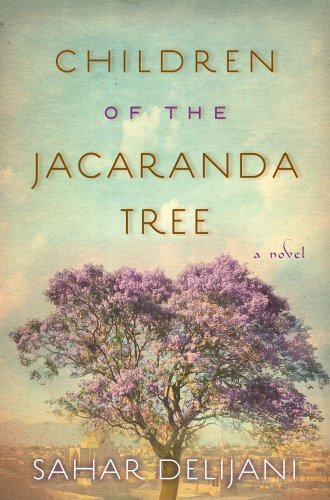 Publisher's Note:
A COUNTRY DIVIDED BY REVOLUTION A PEOPLE UNITED BY LOVE
Neda is born in Tehran's Evin Prison, where her mother is allowed to nurse her for a few months before the arms of a guard appear at the cell door one day and, simply, take her away. In another part of the city, three-year-old Omid witnesses the arrests of his political activist parents from his perch at their kitchen table, yogurt dripping from his fingertips. More than twenty years after the violent, bloody purge that took place inside Tehran's prisons, Sheida learns that her father was one of those executed, that the silent void firmly planted between her and her mother all these years was not just the sad loss that comes with death, but the anguish and the horror of murder.
These are the Children of the Jacaranda Tree. Set in post-revolutionary Iran from 1983 to 2011, this stunning debut novel follows a group of mothers, fathers, children, and lovers, some related by blood, others brought together by the tide of history that washes over their lives. Finally, years later, it is the next generation that is left with the burden of the past and their country's tenuous future as a new wave of protest and political strife begins.
Children of the Jacaranda Tree is an evocative portrait of three generations of men and women inspired by love and poetry, burning with idealism, chasing dreams of justice and freedom. Written in Sahar Delijani's spellbinding prose, capturing the intimate side of revolution in a country where the weight of history is all around, it is a moving tribute to anyone who has ever answered its call.
This book was sent to Compass Book Ratings for review by Atria
Children of The Jacaranda Tree
by Sahar Delijani
Overall Review:
Children of the Jacaranda Tree is a powerful and deeply moving narrative. The book follows a fictional extended family as they try to survive the years of political instability and revolution in modern-day Iran. Author Sahar Delijani actually bases the story off of her own family's harrowing experiences. While Delijani provides little background information or facts about Iran's troubles, she successfully emphasizes the physical and emotional toll these events took on its citizens.
Despite the heavy subject matter, Delijani's words are beautiful and poetic. Breathtaking metaphors, rich symbolism and heartfelt scenes dot each page. As characters try to repair torn families and shattered dreams, I couldn't help applauding Delijani's work and feeling hopeful for the Iranian people. I recommend reading Children of the Jacaranda Tree, as it gives a voice to the thousands who suffered in silence.
Content Analysis:
Profanity/Language: 4 religious exclamations, 1 mild obscenity
Violence/Gore: Several implied occurrences of violence, as well as second hand reports of attacks and executions; a scene of violence were police attack a woman who subsequently miscarries; in a non-detailed scene of violent death, a group of men are hanged.
Sex/Nudity: A few incidents of kissing; one clinical depiction of nudity; a few sexual references; several implied or reported accounts of sexual activity.
Mature Subject Matter:
War and revolution, murder, death of a family member, underage drinking
Alcohol / Drug Use:
Characters drink and smoke; underage drinking occurs in one brief scene
Reviewed By Rachel