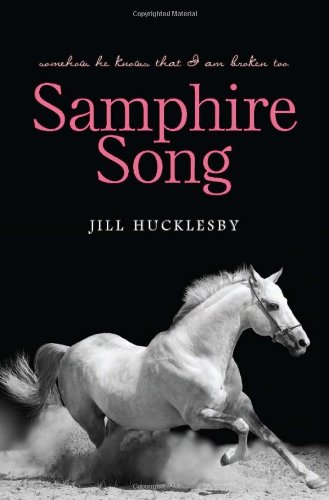 Publisher's Note:
When fourteen-year-old Jodie buys a wild horse at auction, she has no idea what she is taking on. Something has drawn her to Samphire--there's an instant bond between them. She recognizes he's a damaged horse who needs time to mend. Jodie understands all about pain, having lost her dad two years before. Slowly, she gains Samphire's trust, and Jodie begins to blossom with a new confidence. But when her younger brother Ed becomes very ill and needs an operation, Jodie is faced with the biggest decision of her life. In order to help her mother and brother, she must let Samphire go. She makes him a promise--as soon as she can, she will find him and bring him home. It's a promise that leads her into danger. But somewhere, Samphire is calling to her. She senses his life is at risk and there's not much time. She must rescue him, whatever the cost.
This book was sent to Compass Book Ratings for review by Albert Whitman & Co.
Samphire Song
by Jill Hucklesby
Overall Review:
If you love horses, then you will love Jill Hucklesby's story of Samphire, a grey Arabian stallion, and Jodie Palmer, an emotionally damaged teenager. The storyline centers on fourteen-year-old Jodie and her Mom and younger brother Ed. The father has recently died and Ed has a life-threatening health problem. This is a family in crisis but Jodie has taken the hardest hit. Jodie says it best when she states, "I have a rock where my heart should be."
Ms. Hucklesby could have created a dysfunctional family to heighten the drama, but instead she drew these characters as loving and caring. The relationship between Jodie and Ed sometimes made me laugh because of the clever teasing banter between the two siblings and then again it was sad because of what they were suffering together. Their mother is protective but trusting and willing to support her children's decisions, especially with Jodie, should she make a mistake in judgment about a choice of a horse. Samphire is enough to make any mother nervous. He too is emotionally broken and displays it by anger and stubbornness.
The plot is not just a simply series of events in which a child finds the perfect horse. There are dramatic situations building trust, making hard decisions, sacrificing what you love for another's greater need, seeing animals abused and neglected, and being involved in a struggle between life or death. There is plenty here to keep any reader interested to the end-- especially the exciting, heroic, and heart wrenching climax.
There is an added quality about this book that noticeable from the very first paragraph—the beauty of the writing. The sentences flow to form stunning word pictures. Space is too limited here to quote the first paragraph, but the reader actually feels that he/she is mounted on that horse as it pounds down the seashore with salt water spraying. The reader will appreciate that Ms. Hucklesby is an experienced writer with several children's book awards to her credit as well as stage and screen writing.
SAMPHIRE SONG is a good read especially for girls. Adults will like the ups and downs of the plot and the beauty of the language. Boys will have to accept that a female is the hero but will love the horses and will relate to the younger brother.
Content Analysis:
Profanity: None
Violence/Gore: A character hears a animal being beaten; a scene includes the short description of abused animals some of which are alive and some are dead.
Sex/Nudity: None
Mature Subject Matter:
Family/Personal Crisis (Terminal illness, unemployment); Death ( Family member, animals); Crime and Illegal Activities-Animal trafficking
Alcohol / Drug Use:
None
Reviewed By Marilyn