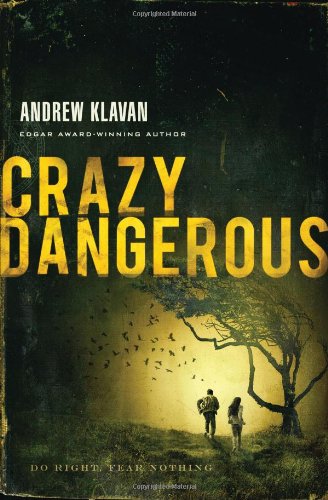 Publisher's Note:
Sam Hopkins is a good kid who has fallen in with the wrong crowd. Hanging around with car thieves and thugs, Sam knows it's only a matter of time before he makes one bad decision too many and gets into real trouble.
But one day, Sam sees these friends harassing an eccentric schoolmate named Jennifer. Finding the courage to face the bullies down, Sam loses a bad set of friends and acquires a very strange new one.
Jennifer is not just eccentric. To Sam, she seems downright crazy. She has terrifying hallucinations involving demons, the devil, and death. And here's the really crazy part: Sam is beginning to suspect that these visions may actually be prophecies—prophecies of something terrible that's going to happen very soon. Unless he can stop it.
With no one to believe him, with no one to help him, Sam is all alone in a race against time. Finding the truth before disaster strikes is going to be both crazy and very, very dangerous.
This book was sent to Compass Book Ratings for review by Thomas Nelson
Crazy Dangerous
by Andrew Klavan
Overall Review:
Sam Hopkins is a kind, funny and sarcastic teenager who you can't help but like. Unfortunately, as a preacher's son, most kids in his high school aren't super comfortable around him because they think they have to act good and respectful around him. When Sam finds a way to tarnish his reputation a little and hopefully open doors to make more friends, things get very complicated, even crazy and dangerous, thus the title, Crazy Dangerous. You are reading along what seems to be very predictable plot then things take a complete turn. Shortly after you think you're back on track, knowing exactly where Klavan is going he throws you another curve ball. If you are easily scared, be prepared to sleep with a night light on as it gets a bit creepy in a few spots. The last few chapters are real nail-biters and a little surprise is snuck in at the very end.
Content Analysis:
Profanity/Language: None
Violence/Gore: Several (16) brief incidents including character joking about wanting to get shot because he's embarrassed; verbal threats; second hand reports of fighting; characters getting hit and beat up; character getting shot at; murder; destruction of property with no casualties. Three extended incidents of creepy scenes.
Sex/Nudity: One brief incident of two characters kissing.
Mature Subject Matter:
Characters stealing property; mention of teenager with no father and a neglectful mother.
Alcohol / Drug Use:
Teenagers drinking beer; second hand report of DUI including car accident; smoking at a bar; teenagers possibly taking performance enhancing drugs.
Reviewed By Jenny