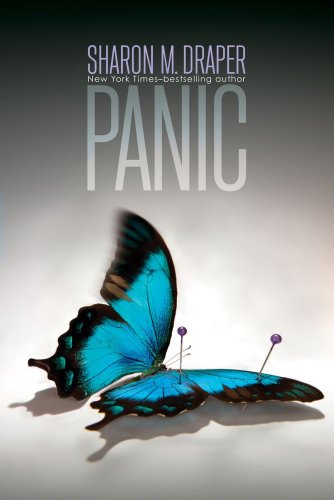 Publisher's Note:
This gripping and chillingly realistic novel from New York Times bestselling author Sharon Draper shows that all it takes is one bad decision for everything to change.
Diamond knows not to get into a car with a stranger.
But what if the stranger is well-dressed and handsome? On his way to meet his wife and daughter? And casting a movie that very night—a movie in need of a star dancer? What then?
Then Diamond might make the wrong decision.
It's a nightmare come true: Diamond Landers has been kidnapped. She was at the mall with a friend, alone for only a few brief minutes—and now she's being held captive, forced to endure horrors beyond what she ever could have dreamed, while her family and friends experience their own torments and wait desperately for any bit of news.
From New York Times bestselling author Sharon Draper, this is a riveting exploration of power: how quickly we can lose it—and how we can take it back.
Panic
by Sharon M. Draper
Overall Review:
Sharon Draper tackles tough issues such as abduction, dating abuse, and pedophilia is her latest novel, Panic. Because her focus is the issues (they aren't even really "themes"), the development of characters takes a back-seat to her effort to warn and raise awareness, but this results in keeping the reader at a dispassionate distance. Firmly targeting older teens, Draper has liberally used common slang and dialogue for a large percentage of the text. Unfortunately, realistic dialogue does not necessarily equate with good/engaging dialogue. Similar to Greek theater where violence happens off-stage, Draper has the most violent scenes happen "off-page". The violence is never described, yet as a reader, we know it is happening and it is possibly more horrible in its imagining. This book is a dark, cautionary read that could effectively frighten teenage girls for quite a long time.
Content Analysis:
Profanity/Language: 15 religious exclamations; 5 mild obscenities; 15 derogatory names; 5 anatomical terms.
Violence/Gore: 2 instances where character punches another character; report of a death in a car accident; a character grabs another's wrists, leaving marks and chokes, leaving marks; character receives rope burns; verbal threats to sexually abuse a child; it is clear that a character is being repeatedly raped "off-page", but no actual scenes are depicted in the book; a character is stabbed; a character is chased incurring minor injuries; a character has a fall resulting in serious injuries.
Sex/Nudity: Reference to "boobs"; character called gay; verbal threats to sexually abuse a child; brief scene in which teenage characters make-out and female character removes all upper body clothing and allows pictures to be taken; character brags about having made pornographic films; text messages circulated with nude picture of a character; many crude things said to a character about nude pictures; a character is naked for extended periods of time (sexual purposes); it is clear that a character is being repeatedly raped "off-page", but no actual scenes are depicted in the book.
Mature Subject Matter:
Abudction, Pornography, Date Abuse, Sexting, Pedophiles
Alcohol / Drug Use:
Character is drugged to obtain compliance. It is mentioned that a character sells prescription drugs.
Reviewed By Cindy