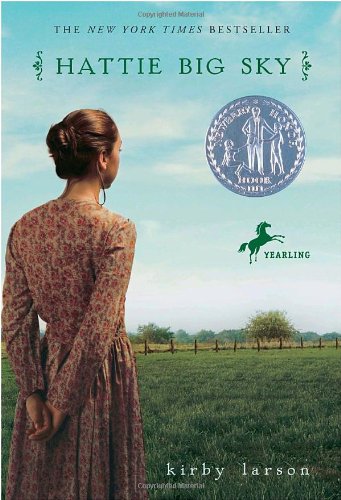 Publisher's Note:
For years, sixteen-year-old Hattie's been shuttled between relatives. Tired of being Hattie Here-and-There, she courageously leaves Iowa to prove up on her late uncle's homestead claim near Vida, Montana. With a stubborn stick-to-itiveness, Hattie faces frost, drought and blizzards. Despite many hardships, Hattie forges ahead, sharing her adventures with her friends--especially Charlie, fighting in France--through letters and articles for her hometown paper.

Her backbreaking quest for a home is lightened by her neighbors, the Muellers. But she feels threatened by pressure to be a "Loyal" American, forbidding friendships with folks of German descent. Despite everything, Hattie's determined to stay until a tragedy causes her to discover the true meaning of home. Newbery Honor Book.
This book was sent to Compass Book Ratings for review by Yearling (A Random House Children's Imprint)
Hattie Big Sky
by Kirby Larson
Overall Review:
I considered myself a pretty mature sixteen-year-old, but I had nothing on Hattie Inez Brooks, the protagonist of Kirby Larson's beautifully-crafted novel Hattie Big Sky! At sixteen, orphan Hattie ("Hattie Here-and-There") inherits a land claim in eastern Montana. Grateful for the chance to leave her less-than-loving Aunt Ivy, Hattie packs up and leaves Iowa for the land of the "big sky." While working for ten months to prove up her uncle's claim, Hattie deals with recalcitrant farm animals, bigoted neighbors, and the harsh reality of the First World War. Hattie's spirit and spunk won me over immediately! Larson's prose made me feel like I was right in the middle of the wide skies and blue flax fields of Montana. My only complaint was that the book didn't last long enough!
Content Analysis:
There is some extremely mild profanity (mostly consisting of references to profanity and not actual epithets).
There is some mild violence; a homesteader's barn is set on fire, a few schoolboys try to throw rocks at another schoolboy, a few cowboys threaten men with violence (and knock one down).
There is some extremely mild sexual content—a boy touches a girl and she thinks that it feels like an electric charge.
Mature Subject Matter:
Mature themes consist of war, prejudice, and making the best of unpleasant circumstances.
Alcohol / Drug Use:
***
Reviewed By CindyB