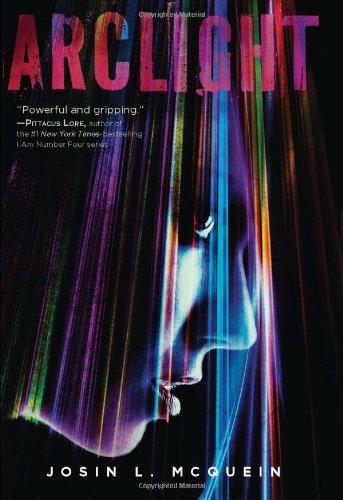 Publisher's Note:
A harrowing sci-fi thriller about a teen who's survived horrors but lost her memory, for fans of Veronica Roth, Stephen King, and Justin Cronin.
Arclight is a bold and astonishing debut about identity, unnerving connections, tortured romance, and the courage we find when we face our worst nightmares.
The Arclight is the last refuge in a post-apocalyptic world consumed by terrifying monsters called the Fade. No one crosses the wall of light that keeps the last human survivors safe. There's nothing else left and nowhere to go. Or so they thought, until Marina, a lone teenage girl, stumbles out of the Dark.
Marina doesn't remember who she is, where she came from, or how she survived. And the Fade want her back. When one of them infiltrates the compound and recognizes Marina, she begins to unlock secrets she didn't even know she had. Marina knows she's an outsider in the Arclight, but she'll do anything to protect those who saved her. Whether they want her help or not.
Arclight
by Josin L. McQuein
Overall Review:
Arclight is an excellent novel with some roots in heavy science fiction. Fortunately you don't have to be familiar with heavy science fiction to understand and enjoy this book. There's a great mystery at the center of it, accompanied by a very interesting and conflicted character. A great part of the novel is that unlike a lot of science fiction films, it isn't about action or romance, and lets the reader fully appreciate the hard work that the author put into crafting the story. The concept is fresh and intriguing, and a nice step away from the standard apocalypse novel. Arclight's only notable flaws are that it could have benefited from slightly slower pacing, and that the reader feels a bit out of touch with the protagonist by the end of novel. In addition to this, the author leaves a few questions and conflicts unresolved. However, for those who love this novel there is a joyful fact--there will be sequels to this awesome science fiction work.
Content Analysis:
Profanity/Language: 1 religious exclamation; 1 religious profanity; 1 anatomical term.
Violence/Gore: Characters are chased by creatures; there are multiple fight scenes involving guns and fists that result in varying levels of injury; characters suffer numerous severe wounds; there are brief instances of torture of non-human but sentient beings. There are several scenes where characters intentionally cut or burn themselves, a couple of which are graphic.
Sex/Nudity: Characters kiss.
Mature Subject Matter:
Death, humanity, bioethics
Alcohol / Drug Use:
None
Reviewed By Jackson