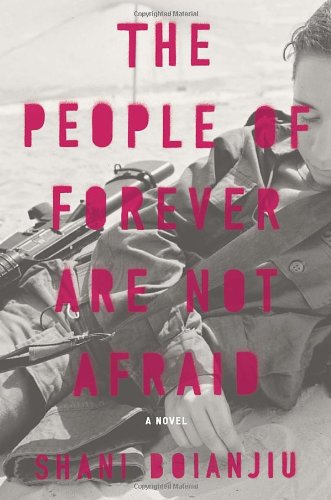 Publisher's Note:
Yael, Avishag, and Lea grow up together in a tiny, dusty Israeli village, attending a high school made up of caravan classrooms, passing notes to each other to alleviate the universal boredom of teenage life. When they are conscripted into the army, their lives change in unpredictable ways, influencing the women they become and the friendship that they struggle to sustain. Yael trains marksmen and flirts with boys. Avishag stands guard, watching refugees throw themselves at barbed-wire fences. Lea, posted at a checkpoint, imagines the stories behind the familiar faces that pass by her day after day. They gossip about boys and whisper of an ever more violent world just beyond view. They drill, constantly, for a moment that may never come. They live inside that single, intense second just before danger erupts.

In a relentlessly energetic and arresting voice marked by humor and fierce intelligence, Shani Boianjiu, winner of the National Book Foundation's "5 Under 35," creates an unforgettably intense world, capturing that unique time in a young woman's life when a single moment can change everything.
This book was sent to Compass Book Ratings for review by Random House
The People of Forever are not Afraid
by Shani Boianjiu
Overall Review:
The People of Forever are not Afraid by young Israeli novelist Shani Boianjiu is a harsh, gritty novel. It follows three young women as they leave high school in Israel and begin their compulsory military service. These are teenagers wearing all their hormones and fantasies on their sleeves; as readers we really do get very up, close and personal with their emotional and sex lives. They are living in a brutal world where murder, rape and abuse are realities in their society, and all of these things occur during the novel. All three girls are abused, and one also abuses a man.
For the two years of their military service all future plans and hopes are irrelevant, all that they are expected to focus on is serving their country in whatever way they have been assigned. From the painfully dull and mundane of checkpoint monitoring to the high-tension of ammunition-training we follow these girls, never on the front line but in always in difficult border areas where disputes can so easily flare up. These girls are also living on the border, the border between youth and adulthood, between leaving school and the freedoms of adulthood and also the border between healthy and unhealthy relationships.
This is at times a difficult read, but an interesting one. The prose is artfully crafted and Shani Boianjiu's ability to shock and move without explaining everything to the reader makes her an important voice for the future.
Content Analysis:
Profanity/Language: 7 derogatory names; 8 scatological words; 10 anatomical terms; 1 offensive hand gesture; 24 F-word derivatives.
Violence/Gore: A young man commits suicide; a soldier is killed violently; 3 young women are beaten and raped; a man is burnt and abused by a young woman; many reports of violence and death.
Sex/Nudity: Characters kiss and touch; 4 incidences of implied sexual activity; 5 incidences of sexual activity without explicit details; 4 incidences of sexual activity with very detailed description; a long scene where sexual abuse and rape is taking place but it is discussed only directly and not explicitly described.
Mature Subject Matter:
War, Rape, Suicide, Marital infidelity, Depression, Death.
Alcohol / Drug Use:
Characters drink beer and spirits on many occasions and smoke frequently.
Reviewed By Ailsa