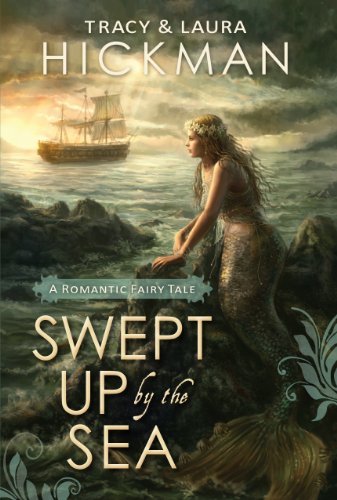 Publisher's Note:
Determined to seek his fortune, Percival Taylor leaves behind his sleepy hometown and sets out to become a legendary pirate. The only problem is, no one at the rough-and-tumble seaport of Blackshore will allow him anywhere near a ship! Percival must find other means to win the heart of the beautiful Tuppence Magrathia Paddock, who has mistaken him for a pirate rogue out of one of her romantic books. She is entirely willing to swoon into his arms if he can prove his buccaneer soul and she will even arrange her won kidnaping to prove it. Percival eventually finds himself captain of a broken-down ship, complete with a crew of reluctant pirates, a jilted fiancée, a reclusive master shipwright, and an old professor with a magical secret that could kill them all. Join the strangest assortment of characters you ll ever meet on the Nine Seas as they set sail for treasure and romance!
This book was sent to Compass Book Ratings for review by Shadow Mountain
Swept Up By the Sea: A Romantic Fairy Tale
by Tracy & Laura Hickman
Overall Review:
Swept Up By The Sea is a story within a story--with other stories inside it. Basically, it's a brand new fairytale with a twist. The fantasy world is well-crafted and consistent, and the writing shows the author's thourough articulation of sailing terms. Most characters are fleshed out with flashbacks to their past. The writing is humorous, but you can't help sitting on the edge of your seat to find out what happens next. While the storytelling and plotline are aimed at younger audiences, there are a few veiled sexual references that, it seems, the author added to make the book appeal to older readers. The beginning is a little slow and there are some confusing details. However, it picks up quickly for the rest of the story and most confusions are straightened out. If you still have a few questions, use your imagination! I would recommend this book to anyone who loves fairytales, well-rounded characters, and lots of storytelling!
Content Analysis:
Language/Profanity: None
Violence/Gore: Characters using intimidation instead of actually fighting; reports and stories of violence; violent scenes without life-threatening injuries; one scene of magical violence with wands - no life-threatening injuries.
Sex/Nudity: Flirting; 2 instances of kissing; vaguely referencing things of a sexual nature; hugging; caressing.
Mature Subject Matter:
None
Alcohol / Drug Use:
Adults drinking in bars.
Reviewed By Annelise