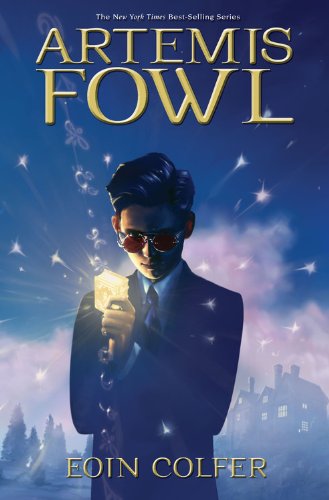 Publisher's Note:
Twelve-year-old Artemis Fowl is a millionaire, a genius—and, above all, a criminal mastermind. But even Artemis doesn't know what he's taken on when he kidnaps a fairy, Captain Holly Short of the LEPrecon Unit. These aren't the fairies of bedtime stories; these fairies are armed and dangerous.

Artemis thinks he has them right where he wants them…but then they stop playing by the rules.
Artemis Fowl
by Eoin Colfer
Overall Review:
Artemis Fowl is a modern story with re-imagined versions of fairies. Written by an Irishman, this book has many good components, and a few not as good. Eoin Colfer really connects you to his characters and makes it hard for you to decide which side you want to win. The writing is solid and the modernized fairy world is flawless. (I'm still amazed at what he did with leprechauns!) While the background is well done, the plot, while intense, is a little slow, with not quite enough suspense to keep you dying to come back. Before this review, I had tried to read this book multiple times, but never managed to finish because of the way the plot doesn't do much to grab your attention. At the same time, I know many people who loved Artemis Fowl growing up, and, as this is only the first book in the series, they seem to get better as they go on. I would recommend this book to young teens who love contemporary fantasy and intense action scenes.
Content Analysis:
Language/Profanity: 7 mild obscenities.
Violence/Gore: Implied threats; broken fingers; poisoning; guns that burn, crisp, electrocute, and/or shoot tranquilizers; stories of implied deaths; non-detailed images of results of violence; detailed descriptions of weapons and what they do; scenes of hand to hand combat - with and without magic; attempt to blow up another person; destruction of property with no casualties; non-detailed fight scenes; an animal is killed; violent death by magical wild animal, detailed descriptions of plotted deaths; scenes of intense violent fights; explosion of deadly bomb.
Sex/Nudity: None
Mature Subject Matter:
Mental illness, death, criminal activities and breaking the law.
Alcohol / Drug Use:
Drunk woman, syringe injections for health, sleeping pills, tranquilizer darts shot from guns, smoking cigars, adults mentioned not to be "sober," truth serum injection, references to drinking wine.
Reviewed By Annelise