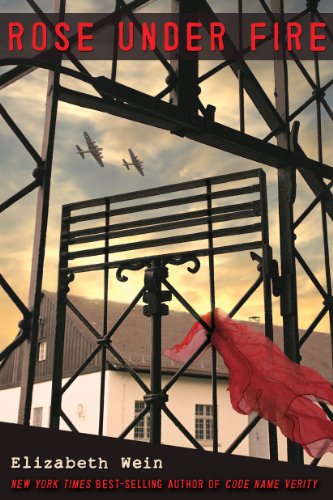 Publisher's Note:
While flying an Allied fighter plane from Paris to England, American ATA pilot and amateur poet, Rose Justice, is captured by the Nazis and sent to Ravensbruck, the notorious women's concentration camp. Trapped in horrific circumstances, Rose finds hope in the impossible through the loyalty, bravery and friendship of her fellow prisoners. But will that be enough to endure the fate that's in store for her?

Elizabeth Wein, author of the critically-acclaimed and best-selling Code Name Verity, delivers another stunning WWII thriller. The unforgettable story of Rose Justice is forged from heart-wrenching courage, resolve, and the slim, bright chance of survival.
This book was sent to Compass Book Ratings for review by Hyperion Books for Children (A Disney Imprint)
Rose Under Fire
by Elizabeth Wein
Overall Review:
Rose Under Fire by Elizabeth Wein is a companion book to her award-winning Code Name Verity. As a companion book, there is some overlapping mention of characters, but it is not necessary to have read Code Name Verity in order to follow and appreciate Rose Under Fire.
Rose's American voice rings true as she chronicles an under-represented slice of World War II--prison camps (as opposed to the concentration camps) and the reality of life after war. Specifically, how do you live with your experiences when it is over and how do those experiences shape your future? Rose's simple telling of her experience was perfectly pitched to focus the reader on the story and its characters. Haunting, harrowing, humbling, and hopeful, Wein has given us another excellent young adult historical fiction novel.
Content Analysis:
Profanity/Language: 25 religious exclamations; 26 mild obscenities; 2 religious profanities; 10 derogatory names; 8 scatological words; 10 f-word derivatives.
Violence/Gore: Many reports of deaths in WWII due to bombings, fighting, gassings, shootings, concentration camps, etc.; scene describing bombing in London (no deaths); explosion of a bomb (no deaths); radio show reports medical experiments on prisoners in prison camps; letter from soldier describing the hundreds of bodies he encounters; character recollects being beaten (few details); many instances of characters being hit, pushed, tripped, beat, shot; detailed description of medical experimentation and scars; characters remove dead bodies and take clothing from dead bodies; report of rape (no details); report of amputations; report of dog bites; shots from an execution are heard; detailed testimony in courtroom regarding medical experiments
Sex/Nudity: Character says she was sleeping in her birthday suit; two separate reports of rape (no details); characters strip-searched; reference to menstrual period; report that a person exchanged sexual favors for food.
Mature Subject Matter:
Genocide, Concentration/Prison Camps, World War II, Death, Medical Experimentation
Alcohol / Drug Use:
Characters drink socially and smoke cigarettes. Morphine given to characters to help them sleep.
Reviewed By Cindy