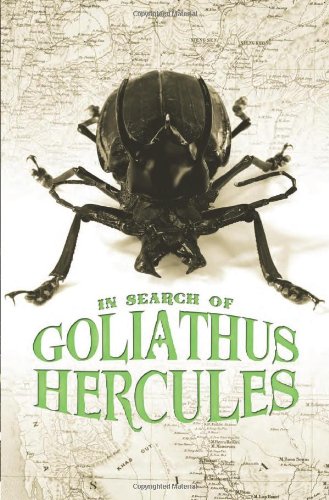 Publisher's Note:
This is the fantastic story of Henri Bell, a near-orphan who in 1890 is sent to live with his ancient great-aunt and her extensive button collection. One rainy afternoon, Henri strikes up a conversation with a friendly fly on the windowsill and discovers he possesses the astounding ability to speak with insects. Thus commences an epic journey for Henri as he manages a flea circus, commands an army of beetles, and ultimately sets out to British Malaya to find the mythical giant insect known as Goliathus hercules. Along the way he makes friends both insect and human, and undergoes a strange transformation of his own. Artist Jennifer Angus, known for her Victorian-inspired exhibits of insect specimens, brings her distinctive sensibility to the pages of her first novel.
This book was sent to Compass Book Ratings for review by Albert Whitman & Co.
In Search of Goliathus Hercules
by Jennifer Angus
Overall Review:
IN SEARCH OF GOLIATHUS HERCULES by Jennifer Angus is a unique piece of fiction writing--especially in the world of children's literature. Knowing a little of Jennifer Angus's background will assist the reader to understand why she decided to write her first novel based on insects. By profession Ms. Angus is a visual artist; simply put, she makes art with pattern. While working on a project in Northern Thailand in the 1980s and 90s, she discovered that insects are beautifully colored and patterned; she decided to combine her two passions, pattern and insects, in art exhibits around the world.
Her debut novel is set in the Victorian era centering on likeable ten-year-old Henri Bell who discovers he has the ability to communicate with insects. Henri becomes the interpreter and organizer for several insect enterprises which take him from America, to England, and finally to Southeast Asia where he intends to capture the elusive Goliathus hercules beetle coincidentally in the same area his father had disappeared from years ago. No hero is worth his salt unless he meets obstacles and Henri has plenty throughout his adventures. One such obstacle is his nemesis Agatha Black who hates insects and dogs Henri at every turn in clever disguises hoping to capture Goliathus hercules first for her own evil purposes. The second obstacle is Henri himself; as he becomes more attached to the insects, Henri begins to change in strange ways.
The plotline has many exciting twists and turns and it helps that the author divided her novel into four parts so the reader can take a break and reflect on all that has happened. At each one of the breaks the author has added two pages of other characters reflecting from their perspective on what has happened thus far. For me, this heightened the anticipation of what was to come. The reader will see evidence of Ms. Angus's visual art using insects throughout the book and the old photos contribute to the Victorian atmosphere.
This is a different read than most children are used to, but once they can accept that insects are not just annoying, creepy, crawly critters, then book becomes amazingly informational and quite a satisfying read.

Content Analysis:
Profanity/Language: None
Violence/Gore: Final battle as bats, insects of all kinds, and humans fight and one character is eaten by a tiger (no details).
Sex/Nudity: None
Mature Subject Matter:
None
Alcohol / Drug Use:
None
Reviewed By Marilyn