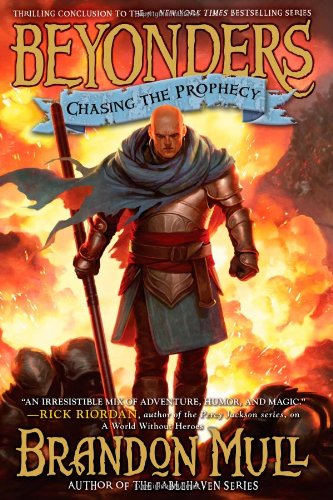 Publisher's Note:
The #1 New York Times bestselling Beyonders fantasy trilogy comes to a stunning and epic conclusion.
Jason and Rachel were not born in Lyrian. They did not grow up in Lyrian. But after all of the battles and losses, the triumphs and adventures, and most of all, the friendships forged in this fantastical world, Lyrian has become home to them in a way they never could have imagined.
And so, armed now with the prophecy of a dying oracle, they have gone on their separate quests—each surrounded by brave and powerful allies—knowing that the chance for success is slim. But Jason and Rachel are ready at last to become the heroes Lyrian needs, no matter the cost.
Chasing the Prophecy
by Brandon Mull
Overall Review:
Chasing the Prophecy is the concluding book in Brandon Mull's fast-paced adventure trilogy, The Beyonders. The author has a knack for creating up-tempo stories that include intense, dramatic, emotional action scenes from beginning to end. If the reader is not careful and has access to the entire trilogy they may find themselves reading all three books straight through without regard for anything else. Mull just has a way of trapping you in his world. The imaginative races that the author creates are well thought-out and unique. My family has had many conversation about what race you would want to be: drilning, amar kabal, wizard, displacer, or lurker. There are so many choices and all are interesting. Combine these characters with the fantastical settings and situation, Chasing the Prophecy is just a great read. Fun, exciting, scary, sad, and encouraging, I highly recommend Chasing the Prophecy.
Content Analysis:
Profanity/Language: None
Violence/Gore: Numerous deaths usually by sword fight or medieval-era combat, somewhat descriptive but not gory; several deaths and property damage done by magic or explosions; scary scenes involving nightmares, a type of creature that is made of shadow, and zombie-like creatures; character is burned to death; character is poisoned and torture is mentioned.
Sex/Nudity: Very mild flirting between teenage boy and girl.
Mature Subject Matter:
Torture, death of family and friends, treachery, war, tyranny, separation from family.
Alcohol / Drug Use:
Characters drink alcholic drinks; torture by and the side effects of imaginary drugs is mentioned, not descriptive.
Reviewed By Matthew