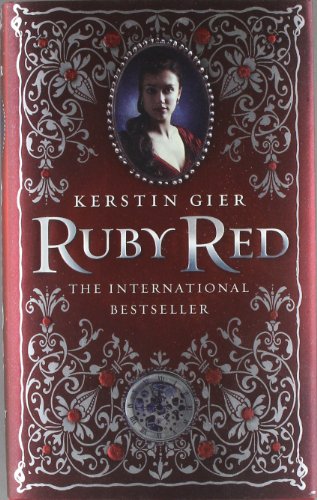 Publisher's Note:
Gwyneth Shepherd's sophisticated, beautiful cousin Charlotte has been prepared her entire life for traveling through time. But unexpectedly, it is Gwyneth who in the middle of class takes a sudden spin to a different era!
Gwyneth must now unearth the mystery of why her mother would lie about her birth date to ward off suspicion about her ability, brush up on her history, and work with Gideon—the time traveler from a similarly gifted family that passes the gene through its male line, and whose presence becomes, in time, less insufferable and more essential. Together, Gwyneth and Gideon journey through time to discover who, in the 18th century and in contemporary London, they can trust.
Kerstin Gier's Ruby Red is young adult novel full of fantasy and romance.
Ruby Red
by Kerstin Gier
Overall Review:
The first book in The Ruby Red Trilogy, Ruby Red ends with a suspenseful and romantic cliffhanger that will leave you dying for more. I couldn't wait to get my hands on the next book, and almost decided to learn German, just so I could continue to read the books that hadn't been translated yet. A bit stiff in the beginning, I always find it a little hard to get into the rhythm of translated books. However, Gier's plot is so captivating and original, by the first few sentences, you're hooked. Time travel is always messy to write about, but Gier has it figured out and explains it simply and repeatedly to ensure the reader understands. This book is directed towards older, high school age readers, which is reflected in the content. I would recommend this book to everyone who loves time travel, mystery, romance, and adventure.
Content Analysis:
Language/Profanity: 6 religious exclamations, 14 mild obscenities, 1 derogatory name, 1 anatomical term.
Violence/Gore: Blood powered machine (small amounts); killing people with swords; drawing blood; fight scene with swords (one character is shot in the face and dies, another is stabbed by a teen in self-defense); threatening to kill others; frequent mentioning of blood - trying to get small blood samples from certain people.
Sex/Nudity: Mentioning people as virgins; calling people sexy; 3 instances of kissing; discussing kissing; flirting; implied touching; implied romance; implied clinical nudity; hugging; holding hands; caressing; references to people being homosexual (they're not).
Mature Subject Matter:
Death

Alcohol / Drug Use:
A character asks another character if they've been smoking something (they haven't).
Reviewed By Annelise