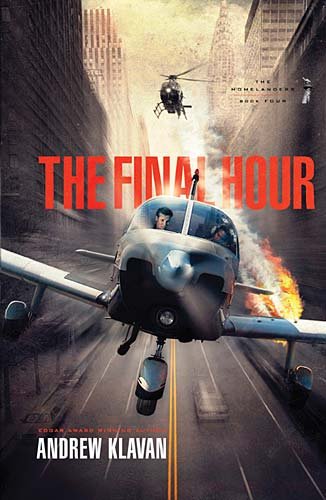 Publisher's Note:
"You're not alone. You're never alone."
Charlie West has held on to that belief, but now he's starting to wonder. He went to bed one night an ordinary high-school kid. When he woke up, he was wanted for murder and hunted by a ruthless band of terrorists. He's been on the run ever since. Now he's stuck in prison, abandoned by his allies, trying desperately to stay a step ahead of vicious prison gangs and brutal guards. And a flash of returning memory tells him another terrorist strike is coming—soon. A million people will die unless he does something. But what? He's stuck in a concrete cage with no way out and no one who can help. Charlie has never felt so alone—and yet he knows he can't give in or give up . . . not with the final hour ticking away.
This book was sent to Compass Book Ratings for review by Thomas Nelson
The Final Hour
by Andrew Klavan
Overall Review:
If you thought the previous three books of The Homelanders series were suspenseful, wait until you read this one! The Final Hour begins about two weeks after The Truth of The Matter and it is close call after close call over and over again. Expect to do a lot of jumping ahead or serious speed reading to see the outcome of several situations. Charlie's like a superhero with a few sidekicks and, of course, plenty of villains to keep him on his feet and make him prove himself a true hero. Like all superheroes though, he also has to deal with even the "good guys" who misunderstand him and make it more difficult for him to save the day. Andrew Klavan is an awesome writer who does such a great job of not missing a single detail. The Final Hour was the best of the series--outstanding!
Content Analysis:
Profanity/Language: 1 religious exclamation; 1 mild obscenity.
Violence/Gore: Many (33) brief incidents including verbal threats; second hand reports of murder, war and torture; fist and knife fights; getting shot at; strangled until unconscious; vehicles on fire, crashing and exploding; minimal detailed scenes of murder. Few (5) extended incidents including fighting and getting shot at; non-detailed scenes of murder.
Sex/Nudity: One instance of imagining kissing.
Mature Subject Matter:
Racism mentioned; terrorism.
Alcohol / Drug Use:
Hypodermic needle used by a doctor.
Reviewed By Jenny