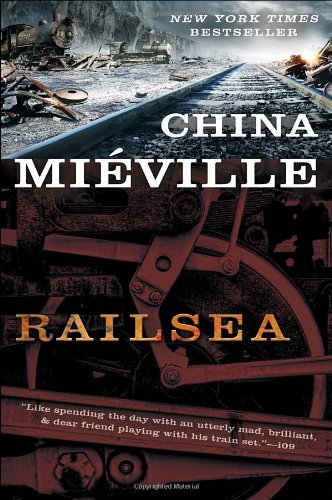 Publisher's Note:
On board the moletrain Medes, Sham Yes ap Soorap watches in awe as he witnesses his first moldywarpe hunt: the giant mole bursting from the earth, the harpoonists targeting their prey, the battle resulting in one's death & the other's glory. Spectacular as it is, Sham can't shake the sense that there is more to life than the endless rails of the railsea—even if his captain thinks only of hunting the ivory-colored mole that took her arm years ago. But when they come across a wrecked train, Sham finds something—a series of pictures hinting at something, somewhere, that should be impossible—that leads to considerably more than he'd bargained for. Soon he's hunted on all sides, by pirates, trainsfolk, monsters & salvage-scrabblers. & it might not be just Sham's life that's about to change. It could be the whole of the railsea.
Railsea
by China Mieville
Overall Review:
Railsea was a fascinating book to read. It is a post-apocalyptic fantasy written in a style that will bring classic literature to mind. It is inspired by the novel Moby Dick, which I have not read but the influence is fairly obvious. A quick skim of the cover jacket at first made me a little skeptical about how good of a book it would be--a novel about people who hunt moles? However odd it sounded, I'm glad I took the time to read it, because it's an awesome read. The classic-style writing and third person perspective are the perfect tools for Mieville to utilize in his artful story telling. The characters will definitely appeal to high-schoolers, and possibly those of the steam punk following. The language could be difficult for some readers, but this only adds to the novel's charm. The ending, though a bit quirky in some aspects, is perfect and will leave the reader smiling. If you want to read a novel that combines active imagination with stylistic art, Railsea is the book for you!
Content Analysis:
Profanity/Language: 2 religious exclamations; 15 mild obscenities; 1 derogatory name; 3 scatological words
Violence/Gore: Characters threaten each other; there is a report of violence; several characters are eaten or mauled by creatures, resulting in death and injury, with some description of blood. There are a couple of battle scenes that result in death and injury with some description of blood.
Sex/Nudity: None
Mature Subject Matter:
Death
Alcohol / Drug Use:
Characters drink a lot; protagonist gets extremely drunk.
Reviewed By Jackson