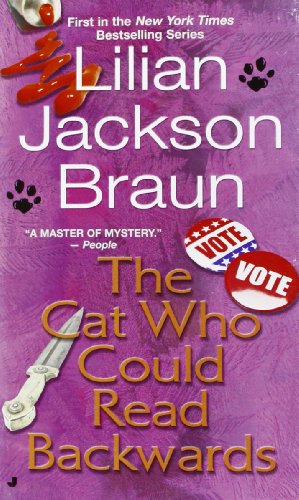 Publisher's Note:
The world of modern art is a mystery to many. But for Jim Qwilleran, it turns into a mystery of another sort when his assignment to the art beat for The Daily Fluxion leads down the path to murder. A stabbing in an art gallery, vandalized paintings, a fatal fall from a scaffolding--this is not at all what Qwilleran expects when he turns his reportorial talents to art. But Qwilleran and his newly found partner, Koko the brilliant Siamese, are back in their element--sniffing out clues and confounding criminals intent on mayhem and murder.
The Cat Who Could Read Backwards
by Lilian Jackson Braun
Overall Review:
The Cat Who Could Read Backwards by Lilian Jackson Braun was written back in 1966 and was the first of what would eventually become a series of 29 books; all the titles in series begin with "The Cat Who--". The protagonist is Jim Qwilleran, a newspaper reporter with a nose for a mystery and along the way he picks up Ko-Ko, a cat.
The novel's format has a good old-fashioned mystery layout: the reporter investigates, asks questions, and meets a variety of characters along the way. There are several false trails and a few red herrings thrown in for good measure. Although it is tempting to say the novel isn't terribly creative or original, the fact of the matter is that the book was written almost 50 years ago! It has a bit of a nostalgic feel with the reporters typing away on old typewriters and getting information the old-school way--asking someone rather than looking it up on a computer. This book should appeal to the die-hard mystery reader and cat-lovers will enjoy the feline dimension. Extremely popular books, which although written for an adult audience, could easily be picked up and enjoyed by younger readers.
Content Analysis:
Profanity/Language: 4 mild obscenities
Violence/Gore: Factual police report of a homicide involving stabbing to the throat with a sharp object; a character falls to their death; a dead body is discovered with a wound (no description); characters struggle briefly, resulting in one being knocked unconscious.
Sex/Nudity: Reference to art "nudes"; implied that a character slept around; it is said that one female character has a crush on another female character.
Mature Subject Matter:
Murder
Alcohol / Drug Use:
Cigar smoking and social drinking by adults.
Reviewed By Cindy