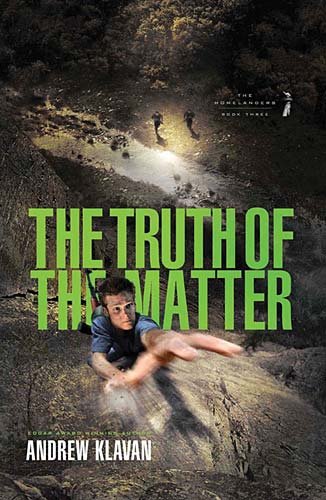 Publisher's Note:
"Never give in."
Ever since he woke up in a terrorist torture chamber—with a year of his life erased from his mind—Charlie West has been on the run. He has one desperate hope of getting his life back: track down the mysterious agent named Waterman. But in fact, reaching Waterman—and recovering the secrets lost in his own memory—will only increase his danger. Because a team of ruthless killers is rapidly closing in on him, determined to stop him from finding the answers. And the truth of the matter is more incredible . . . and more deadly . . . than he could ever imagine.
This book was sent to Compass Book Ratings for review by Thomas Nelson
The Truth of the Matter
by Andrew Klavan
Overall Review:
Klavan does it again with another top-notch book! The Truth of The Matter, book three of the series, is another excellent thriller that keeps you on the edge of your seat while uncovering more clues to the mystery of Charlie West. In the opening chapter you think you'll finally get some answers then the unexpected happens. It was the perfect attention-grabbing opening--Klavan really knows how to start a book. As with books one and two, you are hit with some major surprises that really add to the compelling plot. I can just see this story as a movie or television series. The book begins just a week or two after The Long Way Home and includes a lot of the same characters from the previous two books but adds a few new and very important ones as well. One of the most enjoyable things about this series is the voice of Charlie. He feels like the boy next door and you also get to enjoy a little humor intermingled with the intensity of the story. The book ends with what could possibly be a huge game changer that leaves you hanging and anxious to complete the series in The Final Hour.
Content Analysis:
Profanity/Language: One religious exclamation.
Violence/Gore: Many (25) brief incidents including threats, second hand reports of murder, torture, kidnapping and war; thinking about how some people are starving or being shot at; punched; kicked; getting tased; torture induced from a drug; attempted murder; tear gas used; character kicked which caused unconsciousness; character getting choked; bomb exploding a building. Few (3) extended incidents including police chase and shooting; murder and attempted murder.
Sex/Nudity: Few (4) brief incidents including holding hands; kissing; hugging.
Mature Subject Matter:
Terrorism; mention of torture, war, kidnapping, killing children.
Alcohol / Drug Use:
Hypodermic needle used for medicinal purposes; Mention of the song "99 Bottles of Beer on the Wall".
Reviewed By Jenny